When Luxury Brands Embrace the Beach Scene
Dior, Jacquemus, Dolce&Gabbana, Gucci, Loro Piana, and Giorgio Armani - these renowned French and Italian luxury labels have taken to adorning beach essentials such as umbrellas, sun loungers, mattresses, and beach rackets with their logos. This marketing strategy, borrowed from the mass market, is proving to be successful.
Ramatuelle, Pampelonne, Ibiza - these mythical destinations captivate holidaymakers from all corners of the world, whether they're billionaires on their yachts or tourists staying at the nearest campground. Until recently, luxury brands kept a discreet presence on beaches, aside from their stores sprinkled throughout summer resort towns. However, that era is now well and truly over. This summer in Saint-Tropez, nearly half of the most coveted private beaches prominently feature the logos of luxury giants: Dior, Jacquemus, Dolce&Gabbana, Gucci, Loro Piana, and Giorgio Armani. Parasols, sun loungers, mattresses, and beach rackets proudly bear the names of these esteemed French and Italian luxury houses.
An expert in luxury events remarks, "It's only natural that they would seize this opportunity. The beach used to be the last space untouched by luxury. While it may be lamented on the one hand, in reality, it was inevitable as these brands have the means to spend." The average cost of such an operation varies depending on the types of contracts, some of which are private and confidential among operators (e.g., LVMH being a concessionaire of a beach in Pamplona). However, the estimates are well-known to the locals in Saint-Tropez: "Renting a sun lounger costs around 250 euros per day, according to a professional. With 200 beds at a prestigious location, that's around 50,000 euros per day."
Expenses can escalate quickly, ranging from hundreds of thousands to several million euros
Timothée Gaget from the communication agency Artcher
On average, a customer spends up to 1,500 euros per day, giving an idea of the allure of this affluent target audience for luxury houses interested not only in their purchasing power but also their influence as trendsetters on social media. "In addition, one must consider the costs of beach production and decoration, including all the furniture, equipment, and sometimes even the music and cuisine, all rebranded to perfection. Expenses can escalate quickly, ranging from hundreds of thousands to several million euros," analyzes Timothée Gaget from the communication agency Artcher.
Highly affluent customers, ready to spend without restraint during their vacations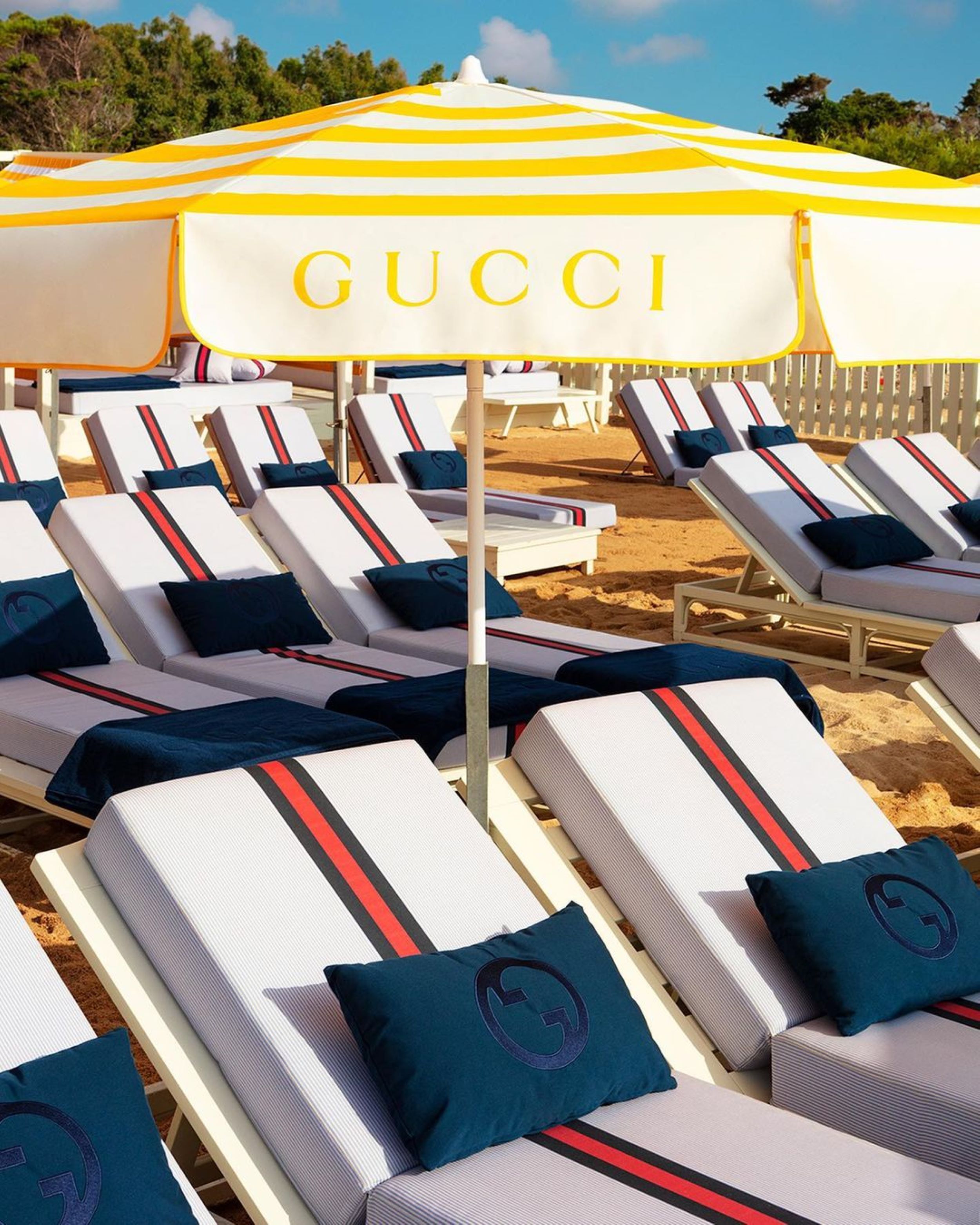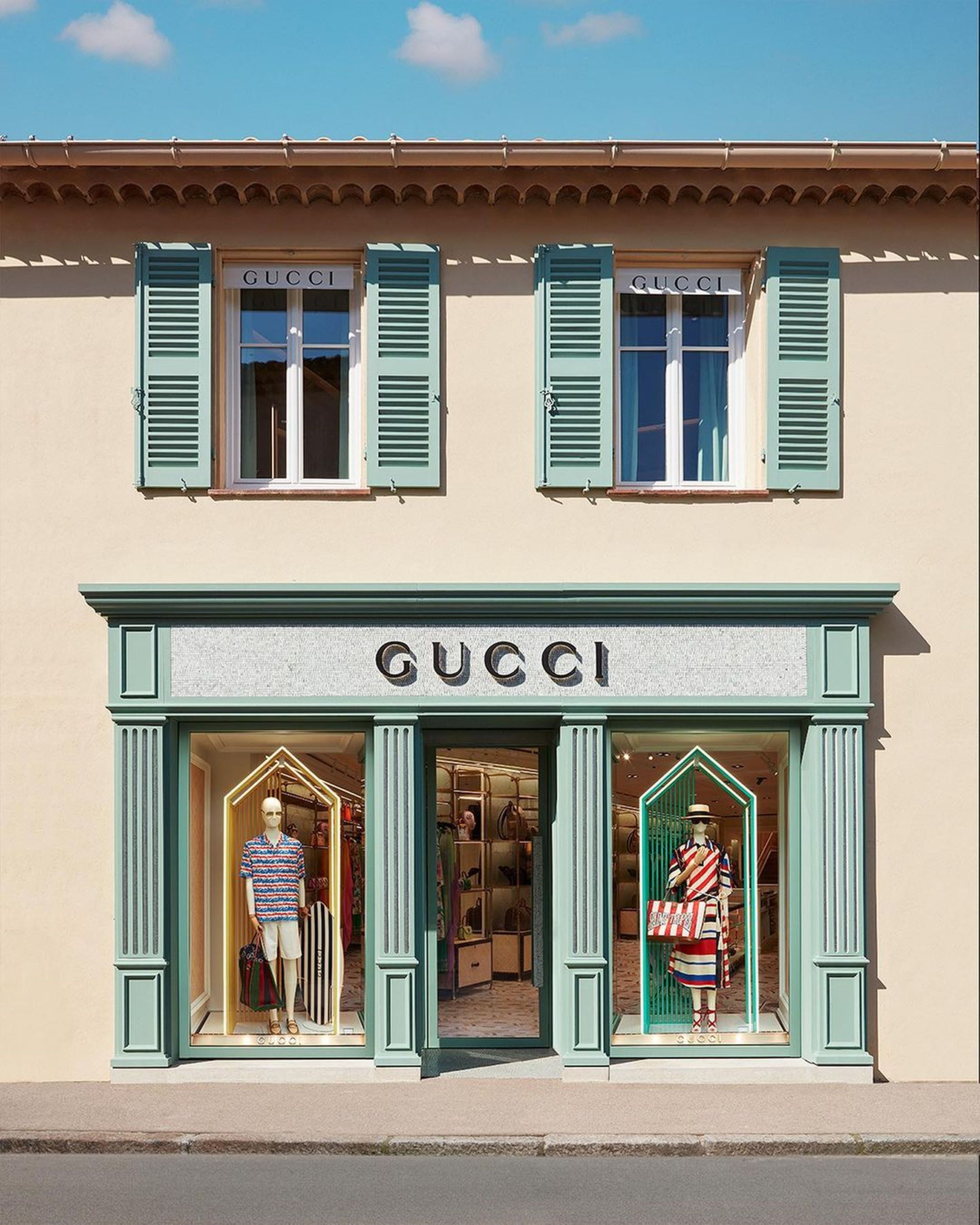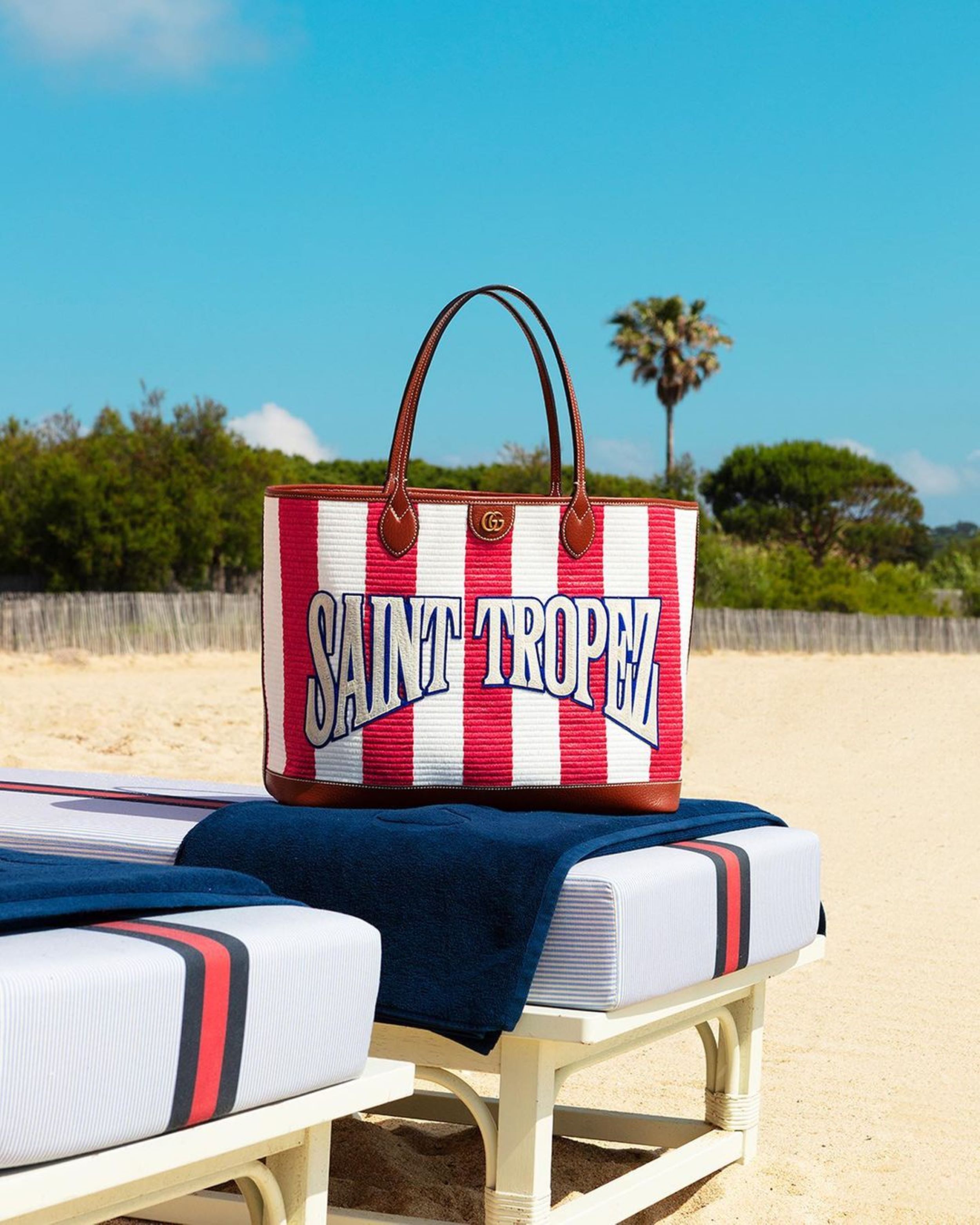 Gucci summer stories from the French Riviera, including Pampelonne beaches, Loulou Ramatuelle, and the new Saint-Tropez boutique on rue François Sibill (Instagram @gucci)
Whether flashy or elaborately decorated, these beaches are an extension of communication diversification strategies that have expanded their scope in recent years. Louis Vuitton Watchmaking made a splash last winter in Courchevel by inaugurating a Mongolian-inspired hut in the middle of the ski slopes. Prada has its café, Dior has a restaurant, Carita as well, while Breitling boasts cafes and restaurants. Fendi has settled in Marbella, where its designer, Kim Jones, has revamped the Puente Romano Beach Resort. Pop-up stores have also sprouted all over the globe, from Venice to Arles, offering brands a chance to present themselves in environments more conducive to lifestyle and attracting passing customers, who are increasingly nomadic and elusive. These ephemeral summer beaches (lasting anywhere from a few months to a few weeks at best) aim to showcase current collection items to customers, but it's not the commercial aspect that interests brands the most.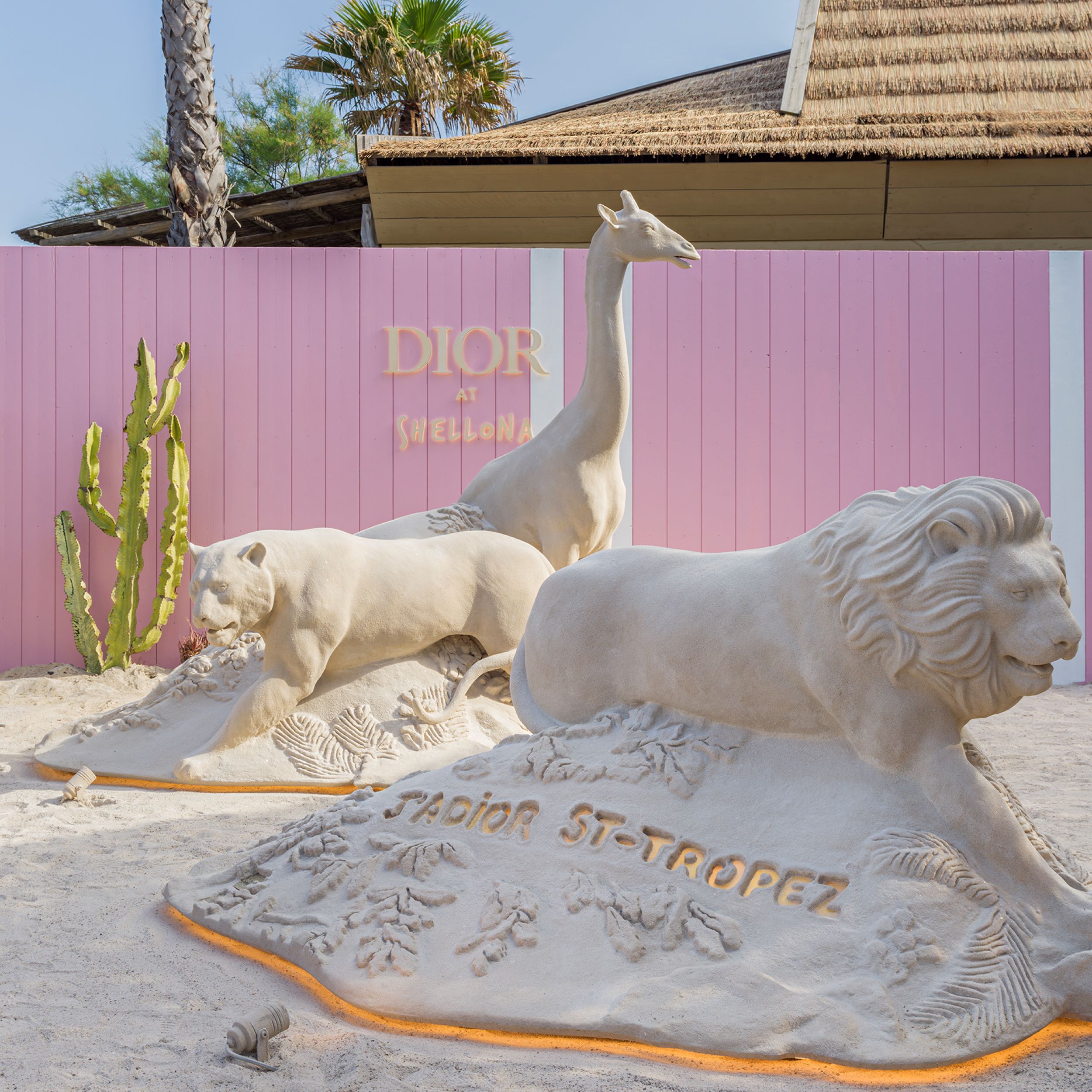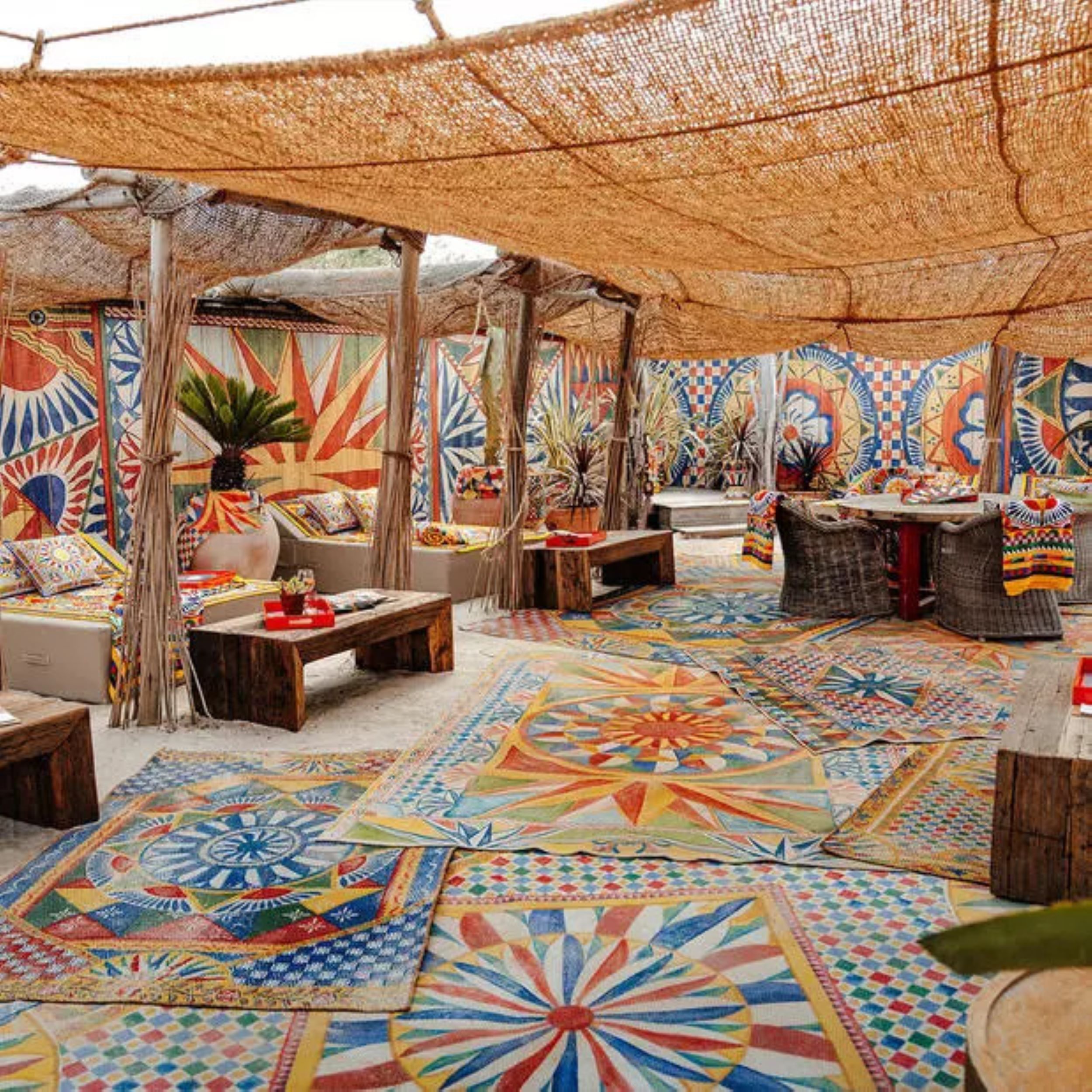 Dior opens an exclusive pop-up store in Saint-Tropez, nestled in the heart of Shellona Beach in the photo on the left (Shellona Beach), and Dolce&Gabbana in Ramatuelle, presents the Casa Amor Beach Club in St Tropez, with Caretto Siciliano's signature design in a luxurious, bohemian ambiance in the photo on the right (Dolce&Gabbana - Thibaud Gegeor)
Instead, they target highly selective international clients who congregate in these private clubs, recognizing each other as members of the same elite circle - and, likewise, their friends and followers on social media. The Armani surfboard or racket, and the Gucci cushions available on the beaches, serve a global image and dissemination purpose. The priority isn't necessarily the summer sales, although they are not negligible.
From China to Italy, these experiences are endlessly shared on social media.
China has also caught onto this trend, as evidenced by Louis Vuitton's beach at Huangcuo Beach on Xiamen Island. The brand has offered a full range of colors and monogrammed products, from hammocks to inflatable floats. Missoni and Valentino are also venturing into new territories, in Italy or the Maldives, to add to the list of jet-set destinations, which already includes Portofino, Cannes, Mykonos, Marbella, Saint-Tropez, and Ibiza. They provide experiential luxury to meet the demands of increasingly discerning and sought-after customers exploring previously uncharted destinations. As "guests" of the brands, VIPs encounter brand-themed surprises: signature cocktails, playful or sports accessories, and dishes by renowned chefs - all experiences that translate endlessly on Instagram or TikTok, multiplying the visibility of these operations.
For Roland Helory, CEO of Vilebrequin, who chose to create a beach club in his brand's colors in Cannes, this choice of summer entertainment is a no-brainer. "Our brand's entire universe can be expressed in a beach club, so the challenge was to find a way to expand our territory and express our know-how differently." It is likely that these initiatives, which have already yielded significant press coverage and social media attention, will be multiplied by "follower" brands or smaller players at different levels. As a result, spaces of freedom for consumers who prefer a more discreet "quiet luxury" approach are diminishing. "It is clear," notes an observer heading a major events agency, "that we are on the lookout for the last white spots, the ultimate environments to find luxury customers and offer them unique experiences. They are willing to pay a premium for that." This trend is not likely to stop anytime soon - unless people choose to go to the desert or the top of Mount Everest. But for how long?
Publishing: a new battlefield for luxury brands
Publishing a brand monography is no longer enough. Now, dedicated collections, publishing houses, inhouse book stores are the must. What if books were the new battlefield for luxury brands?
Register
Newsletter
Be notified of the latest publications and analyses