Haute Couture and Tributes: When Caricature Embraces the Essence
As haute couture finds itself orphaned of several of its greatest designers, tributes ranging from caricature to glorification have been pouring in over the past few months, and young designers have embraced this opportunity to shake things up in a century old industry by reinterpreting and questioning these style icons.
From Jean Paul Gaultier partially stepping away from the catwalks to the passing of Karl Lagerfeld, haute couture has been left bare of its greatest artistic directors in recent years. However, the essence of what constituted their stroke of genius does not fade away; it is being reinterpreted by the new generation of designers through eloquent tributes. While some may occasionally seem pompous and bordering on caricatural, they all bear witness of a tender attachment and admiration that allows the fashion designer to fade away in favor of the icon.
Jean Paul pushed the boundaries of pop culture without people even consciously understanding it
Olivier Rousteing, artistic director of Balmain
The famous Balmain cape worn by actor Jeremy Pope at the latest MET Gala did not go unnoticed. The outfit, made from 5,000 meters of silk rags assembled by 70 seamstresses, represented the face of the designer. Both brilliant and controversial, Lagerfeld's persona inspired these young designers into creating outfits with strong iconography. The couturier himself was savvy as to capitalizing on his image during his lifetime.
A year after his passing, in 2020, a self-portrait of Lagerfeld became one of the highlights of a special auction organized by Ivoire-Boisseau Pomez OVV in Troyes. The painting, sold for 17,980 euros, depicted him with his iconic attributes: black glasses, a ponytail, and a black tie on a high white collar. A quasi-hagiographic fervor, where Lagerfeld, as a self-proclaimed prophet of elegance, is praised for his stylistic genius.
Register
Newsletter
Be notified of the latest publications and analyses
Revisiting icons boosts brand revenues
A way to make clean slate of certain of his political opinions and controversial stances, especially with a new audience. The new CEO of the Karl Lagerfeld brand, Pier Paolo Righi, even admitted prior to the MET event that he expected a certain impact from this showcase and aimed for annual sales reaching one billion dollars within the next three years. In its ready-to-wear line, the brand also relies on the couturier's eccentric reputation, choosing to promote the memory of a whimsical icon with a deadpan sense of humor rather than that of a classist aristocrat. It should be noted that the expansion of the ready-to-wear line, fully acquired by the American company G-III Apparel Group since May 2022 for 200 million euros (which already held 19% of the shares), clearly follows this strategy by repositioning the brand in the accessible luxury segment. The firm recorded a 40% growth between 2020 and 2021 and is counting on an annual growth rate of 20 to 25%.
Since announcing his retirement through a thoughtfully staged final runway show in which he appeared in a coffin, Jean Paul Gaultier has adopted a well-oiled strategy, alternately handing over the reins of his firm to different names, including Olivier Rousteing in 2022. With his tribute runway show, he created an earthquake in the world of haute couture, pushing all the codes of the Gaultier brand to the extreme: from corsets laced directly onto the models, to the brand's characteristic cone-shaped bustiers, and even a living embodiment of the famous perfume bottle "Le Mâle". Symbolism at its paroxysm. Worn by a female model, the spectacular piece, including a glass bust created by one of the glassblowers commissioned to recreate the stained glass windows of Notre Dame Cathedral in Paris, showcased the sanctification of collective memory. It also told the story of Olivier Rousteing's admiration for Gaultier throughout his childhood. Rousteing stated, "This show is an open love letter to Jean Paul. Throughout my childhood, I saw my father, this heterosexual man, holding a bottle of Le Mâle in his hand – a naked man in a crop top – and I thought to myself, 'Wow.' Jean Paul pushed the boundaries of pop culture without people even consciously understanding it." A quasi-Baudelairian perfume flask that sublimates the remnants of a pivotal era.
For its Spring/Summer 2023 season, the Jean Paul Gaultier firm passed the torch to Haider Ackermann and seems to have found a dynamic strategy to keep the brand alive among an ever-evolving audience, despite the withdrawal of its creator. This tactic has proven to be quite profitable, as the Jean Paul Gaultier brand, acquired by the Spanish group Puig since 2011, has been achieving historic records since 2022, with a net profit of 400 million euros by the end of 2022, which represents an increase of 71% compared to 2021, and a net income of 3.62 billion euros, which represents a 40% increase over the previous year. Building on that success, the group is targeting 4.5 billion euros by 2025, according to a three-year plan that was adopted last year which was revised upward.
An iconography that steps into a museum dimension
The premature death of Virgil Abloh at the age of 41 in November 2021 also sparked many tributes. The expressions of affection, from Carla Bruni to Pharrell Williams, were followed by a grand tribute at Art Basel in Miami Beach. The show, initially planned by Abloh himself and his team for the new Louis Vuitton Men's collection, was turned into a tribute to the designer, orchestrated by Michael Burke, the CEO of Louis Vuitton. The latter commented for Fashion United : "Not only was Virgil a friend, a great collaborator, a creative genius, a visionary, and a disruptor; he was also one of the best cultural communicators of our time." This served as a reminder of the revolutionary role played by this young designer in the world of high fashion, establishing himself as the first African-American artistic director of such a renowned luxury brand, and importing urban codes into an elitist universe through his work at the helm of Louis Vuitton's menswear line as well as in his own brand, "Off-White."
The show, titled "Virgil was Here," featured a statue of Abloh holding a canvas, depicting him as a great master contemplating the fruition of his work in full flight. This iconography had a profound impact on posterity, as LVMH's revenue for the first quarter of 2023 was announced at 21.03 billion euros, a 17% increase in organic growth compared to the first quarter of 2022, primarily driven by its fashion and leather goods division, which alone recorded 8.59 billion euros in sales across its 1,772 stores. In April 2022, the Fondation Vuitton in Paris also paid a beautiful tribute to Abloh by hosting the exhibition "Coming of Age," which Abloh had launched in Los Angeles three years earlier.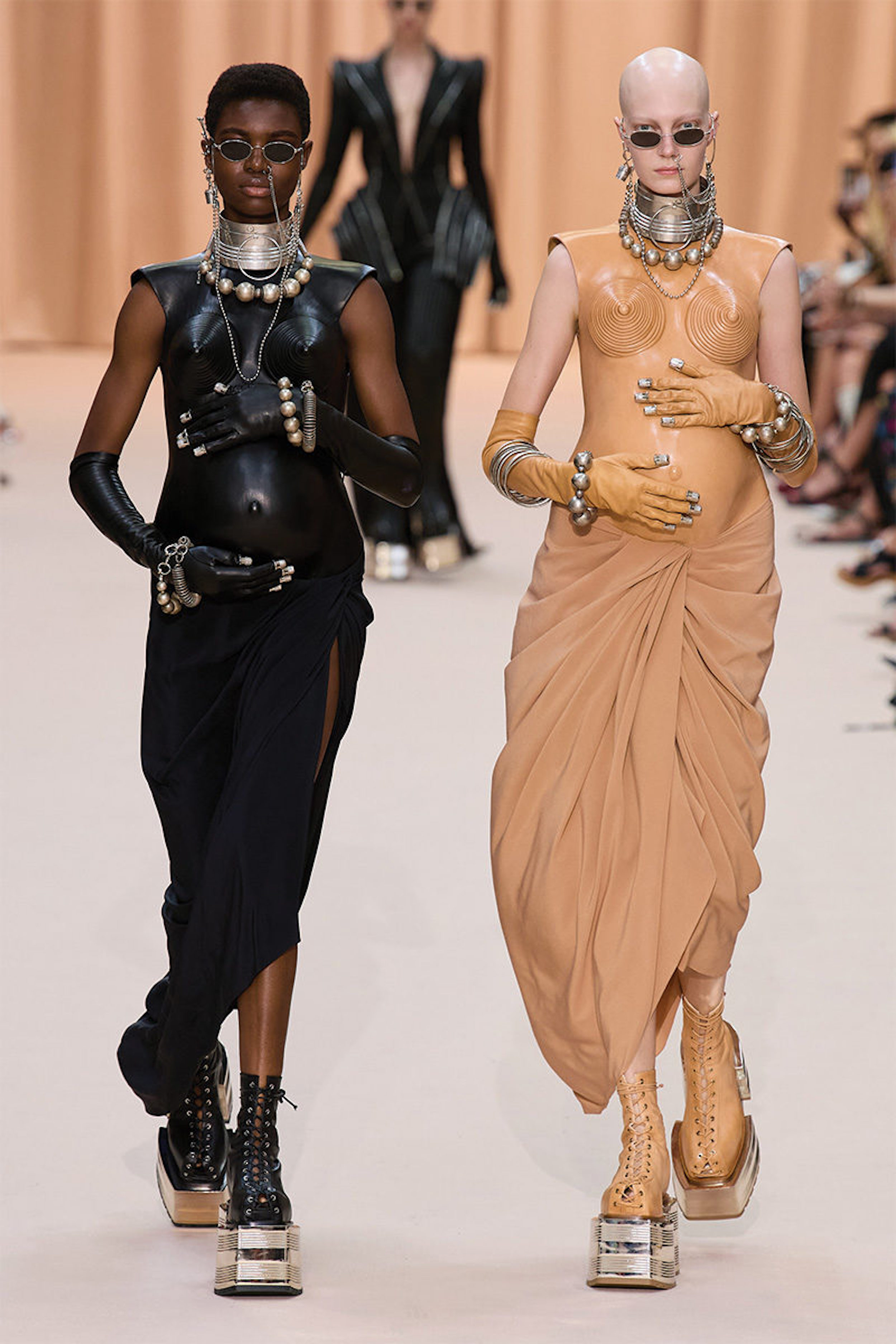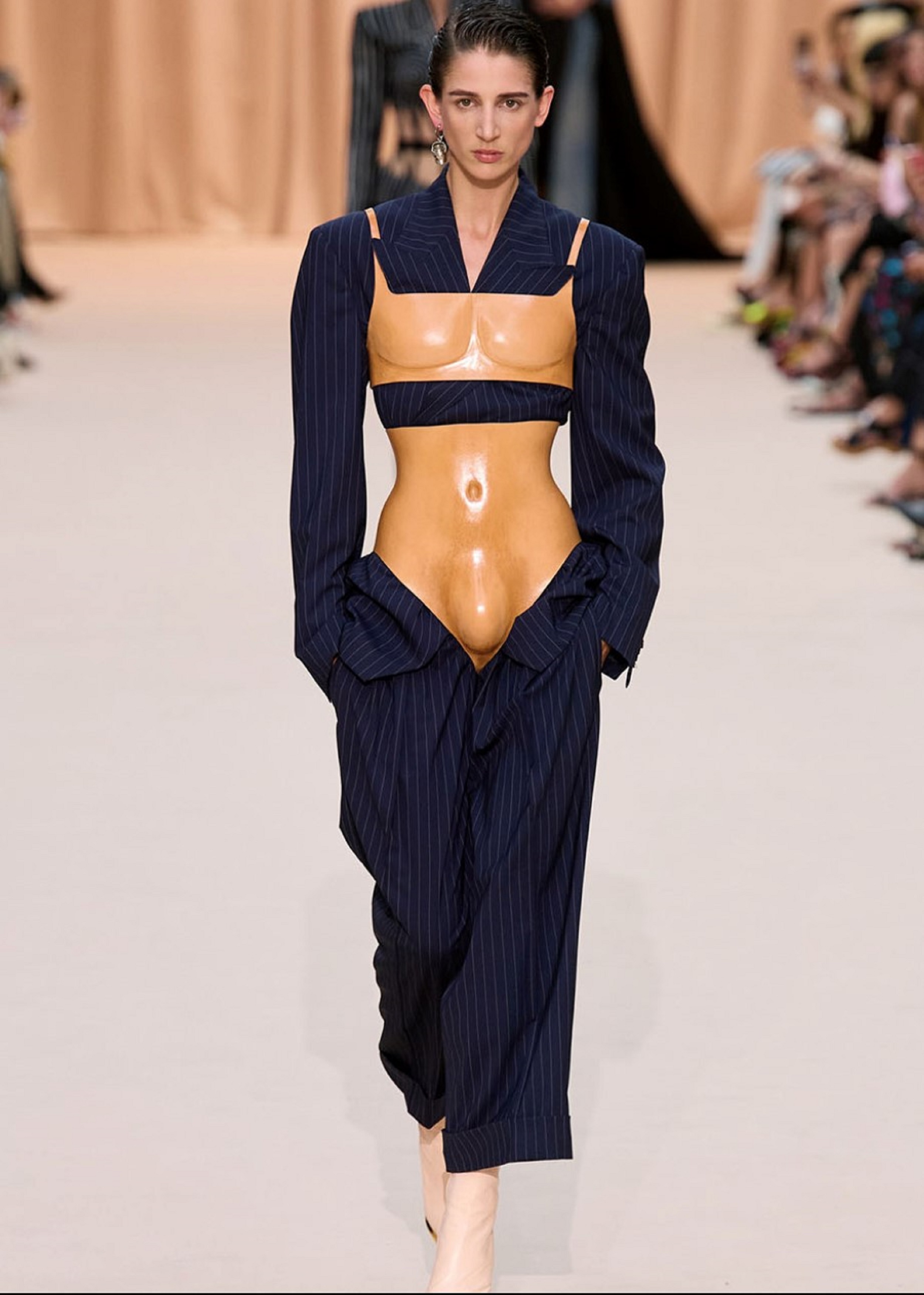 Jean Paul Gaultier's Autumn-Winter 2022 Haute Couture collection (Isidore Montag)
Another homage to Abloh, this time at the Brooklyn Museum, came to a close in January 2023, reminding us that the story of his extraordinary life has its place in a museum. Titled "Virgil Abloh: Figures of Speech," it is interesting to note that this exhibition too had already begun during his lifetime, as it was launched in 2019 at the Museum of Contemporary Art in Chicago. His impact was celebrated, his boldness idolized…
Today, we talk about diversity, inclusivity, breaking barriers, and non-gender, but Jean Paul was the first to do it
Olivier Rousteing, artistic director of Balmain
The boldness of unique shows with cinematic dramaturgy, often featuring key figures of the urban art world to give voice to poignant anti-racist and anti-homophobia messages. Directed by Pharell Williams, the massive Vuitton show on June 22 on the Pont Neuf in Paris did not deviate from his vision, with a show where rap, gospel, and symphony orchestra were showcased side by side, and where the guest list of 1,800 attendees spanned from Anna Wintour to LeBron James, from Leonardo DiCaprio to Beyoncé, as the brand now defines itself not only as a fashion brand but as a "culture brand."
The beginning of a new era
These multiple tributes reveal a desire to promote and even transcend the original fashion designers' intentions. Olivier Rousteing's "pregnant" outfits take Gaultier's fight for LGBTQ+ rights to a higher level, using the show to celebrate the beauty of the pregnant body and perhaps indirectly echo the fight for universal access to assisted reproduction through the two female models walking side by side with rounded bellies. The setback in abortion rights in the United States also resonated as a backdrop, although the collection was designed before these recent developments, leading us to believe that fashion, when pushed to its virtuosity, unwittingly embraces the struggles of the present.
His conical bustier with a masculine crotch also tacitly conveyed a powerful and topical message. Regarding his intention to bring societal struggles to the forefront of the runway, Rousteing explains: "Today, we talk about diversity, inclusivity, breaking barriers, and non-gender, but Jean Paul was the first to do it."
Through the homage to Lagerfeld, a dialogue with some of his outdated beliefs emerged, as exemplified by singer Lizzo, a proud representative of the body positive movement, wearing a reinterpretation of one of Lagerfeld's famous dresses.
The tributes from these bold and committed young designers with mixed origins are also an opportunity to disrupt a century-old industry. In their own way, with fervor and passion, they remind us that haute couture is not just an industry; it is a poignant form of art which mission is to mirror an entire society.
Quiet Luxury: the eternal comeback
Since last April, Quiet Luxury has been widely commented on as a new trend. Nevertheless, it has never stopped existing, reappearing after each global financial crisis.
Chiara Ferragni's subversive dresses by Dior: recapturing freedom
Early March, influencer Chiara Ferragni caused a sensation on a television show in Italy, thanks to her dresses designed by Maria Grazia Chiuri, artistic director of Dior, and the collective Claire Fontaine, with feminist messages that dared to challenge establishment.
Register
Newsletter
Be notified of the latest publications and analyses