Between Sobriety and Excess: The Double Language of Haute Couture, Fall-Winter 2023-2024 Season
From July 3rd to 6th, the haute couture fashion shows once again dazzled the fashion capital, with thirty-two houses unveiling their Fall-Winter 2023-2024 collections. This season marked the arrival of new designers in this exclusive circle and celebrated some of the most exquisite locations in and around Paris, such as the Palais Garnier and Chantilly.
If we're in Paris, this time we're in Paris itself, on the quays. The street and colorful cobblestones call for both sophistication and simplicity.
Virginie Viard, Chanel Creative Director
In this season, some houses chose to exalt the now firmly established allure of quiet luxury. This was evident at Dior with Maria Grazia Chiuri, whose eloquent choice was guided by Christian Dior's quote, "My dresses are inspired by clothes of Antiquity. I maintain an apparent simplicity." Within the confines of the Musée Rodin, discreet luxury also took on a glamorous turn. At Chanel, haute couture, for once, appeared more accessible while still honoring the desire to create unique pieces with exceptional craftsmanship and timeless style.
Artistic Excess
Thom Browne set the stage ablaze at the Palais Garnier for his debut couture show. To celebrate his fashion house's 20th anniversary, the American designer, also leading the Council of Fashion Designers of America (CFDA), embraced a challenging feat. His invitation to journey blended poetry and audacity. The setting alone set the tone, with around 2,000 gray and white paper avatars of the renowned designer placed on plush seats facing the guests. Thom Browne's signature codes were showcased: gray tones, tailored craftsmanship, and a controlled dose of extravagance embodied in looks featuring bird-like heads and plumage. And as an homage to the immense suspended bell hanging from the ceiling, models paraded down the runway wearing extremely elongated hats.
Different hats and different locations set the stage for Charles de Vilmorin's debut couture show, which took place in an industrial venue in the capital's 2nd arrondissement. Vilmorin revealed swan-shaped hats paired with voluminous capes and frayed bombers.
At Schiaparelli, Daniel Roseberry brilliantly embraced extravagance. For this Fall-Winter couture collection, the Texan designer flawlessly conveyed his vision of surrealism: luxurious fabrics in harmony with oversized cuts and massive jewelry featuring imposing golden and silver sculptures adorning the neck, arms, and chest.
Within the majestic setting of the Château de Chantilly, Pierpaolo Piccioli, at Valentino, delivered a masterful demonstration of couture craftsmanship accompanied by flamboyant accessories. Ultra-wide crystal chandelier-like earrings and halo-shaped feather headdresses adorned the silhouettes.
Femininity and Lightness
At Dior, Maria Grazia Chiuri sought to celebrate the feminine beauties of mythology once again. The designer showcased long minimalist dresses, double-faced ecru wool capes, and needle-embroidered silk lace gowns. This timeless couture collection catered to women eager to preserve these treasures of craftsmanship.
At Chanel, Virginie Viard sublimated the eternal myth of the Parisian woman. Vanessa Paradis was the muse for this season, expressing a sophisticated style that was both romantic and bohemian. Delicate silhouettes with loose or pinned-up hair graced the pink-painted cobblestones of Quai de la Conférence. Young women wore high-waisted tweed pants, carrying flower baskets in hand, adorned with sumptuous dark floral lace or exquisite long black organza dresses. The Chanel woman remains undeniably chic, with a touch of absolute simplicity.
Lastly, at Alaïa, Peter Mulier, in charge of the couture house for two years, exalted sensuous women. Feminine curves were accentuated, with dresses fitted like corsets and faces nestled in hoods. The designer played with transparent materials, showcasing visible lingerie. Iconic embodiments of femininity models Irina Shayk and Vittoria Ceretti strutted down the Léopold Sédar Senghor pedestrian runway suspended above the Seine.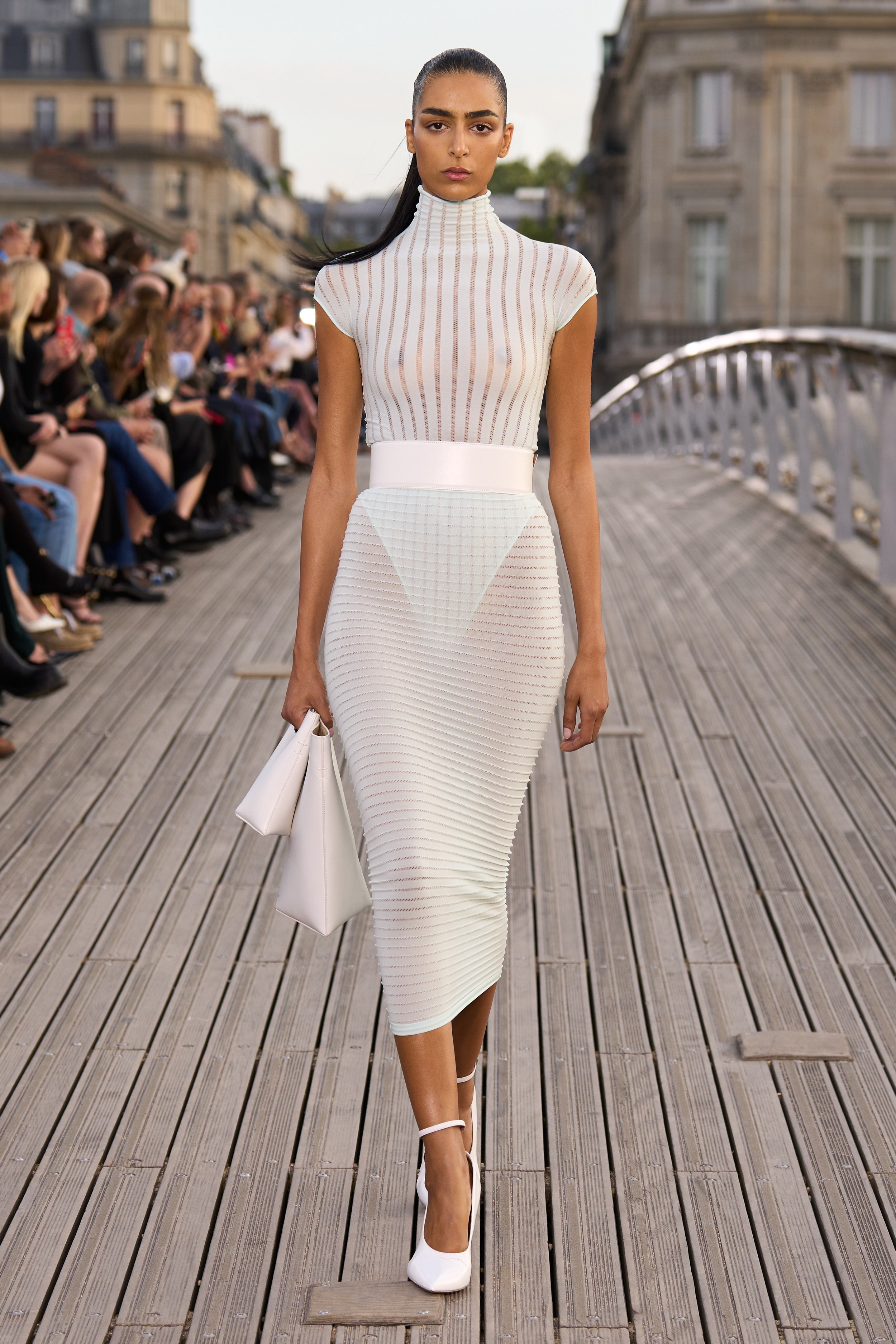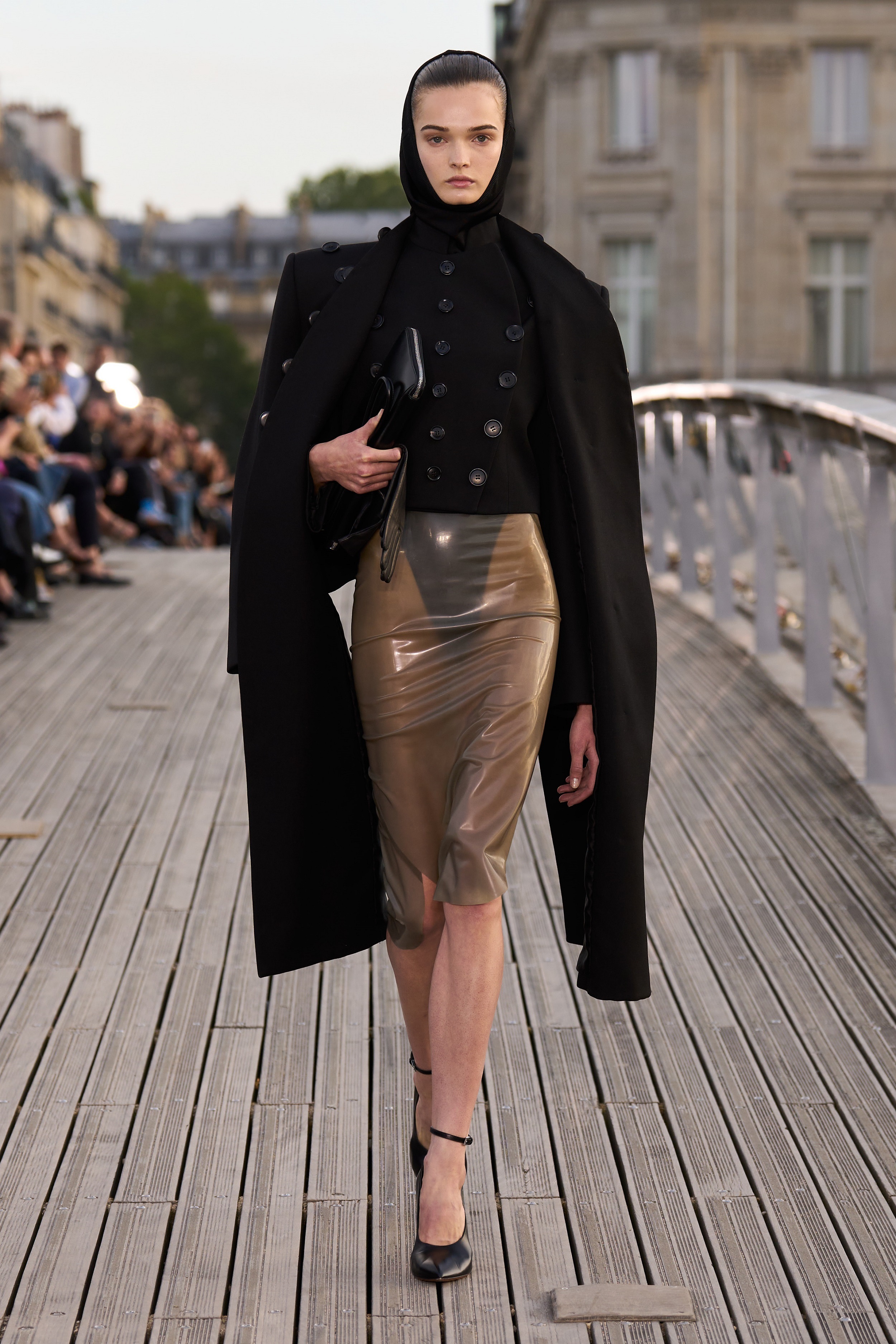 At Alaïa, feminine curves were strongly emphasized, dresses fitted like corsets, and faces wrapped in hoods (Alaia)
Haute Couture and Tributes: When Caricature Embraces the Essence
As haute couture finds itself orphaned of several of its greatest designers, tributes ranging from caricature to glorification have been pouring in over the past few months, and young designers have embraced this opportunity to shake things up in a century old industry by reinterpreting and questioning these style icons.
By Samia Tawil
Register
Newsletter
Be notified of the latest publications and analyses