« To Hermès, taking a stance in watchmaking was very formative »
Hermès watchmaking has known a much-envied growth for several years, just like all the crafts of the group. Guillaume de Seynes, general manager of the Hermès Maison and member of the founding family, explains the reasons for the success, which has been long awaited. Today, he announces a significant extension of the watchmaking manufacture in Noirmont, Switzerland.
The great-grandson of Émile Hermès, Guillaume de Seynes, knows watchmaking well. He even considers it his "métier de Coeur" (his heart's job). A know-how, both technical and demanding, which he loves and has had to handle as soon as he joined the group as international sales and marketing director of Hermès watches at the age of 40. A world that taught him to challenge an uncomfortable yet standard position for the Maison "in a market where no one expected to see the house of Hermès." Just before the turn of the millennium, Guillaume de Seynes took over the business until 2006. Today, as general manager of the group in charge of the Upstream and Participation Hub for twelve years, he is leading manufacturing openings all around France as well as the transmission of Hermès' global savoir-faire. In exclusivity, he details the existing forces that enable watchmaking and the group to remain on the path to growth.
The figures of Hermès Watches have been significantly improving for several years. With a 46% increase in 2022, they have reached +23.6 % during Q1 2023 with 166 million euros. What made this growth possible?
Several effects aggregated. First, this is the result of efforts set up 15 years ago. For an outsider such as Hermès, this takes more time. However, today, we are perceived as watchmakers able to offer watches with original complications and an in-house creative expression, such as "L'Heure de la Lune" or "Le Temps Voyageur ." The success of these types of pieces is increasing, and our strategy to complexify can be seen in our results. Furthermore, our women's offer is going upmarket, in terms of the preciousness of our jewelry-watch lines, as well as in terms of sophistication, just like our métier d'art, which has been very successful and which showcases the graphic signature of our style and our heritage, specifically of silk. The third lever lies within training our teams, who have acquired great confidence in selling timepieces.
Yet this growth has been much awaited. Looking back, which strategy should have been implemented differently?
That's a good question. Had I had the answers back then, I would have implemented them. The strategy was fundamentally the right one. Hermès had to stand out with the best Swiss know-how and creativity. And I believe, regarding the latter, that our offers have evolved. They are today unmissably stronger than twenty years ago, at the time of our shareholding involvement in the Vaucher manufacture. For several years, the market watched us with a sympathetic and perhaps mocking eye, I would say. We shouldn't forget that our popularity was built on women's watches and accessories, such as the Kelly watch. Today, our sales are directed 80% to women. This idea to theorize a story of Time by Hermès grew slowly, and to that the watch "Le Temps Suspendu" has been a great milestone on which we were able to build. As of then, watchmaking looked at us differently.
You were yourself at the head of Hermès Watches three decades ago. Your decision to acquire 25% of shareholdings at Vaucher Manufacture was not always understood. Did you have to fight to enforce this decision?
It was a long-term decision, as always at Hermès. Indeed, in 2006, we didn't need to be shareholders at Vaucher to find the few hundred of movements we needed. But our strategy for 50 years is to be ready to invest in order to gain privileged access to know-how and exceptional materials. After all, we did perhaps get ahead of ourselves, but once again, the vision was long-term. The movement offered open to all was not significant back then and has not improved. I saw this opportunity, and my uncle Jean-Louis Dumas followed me. This took years, and we went through uncertain years. Today, we reap many advantages.
What has this job taught you?
It has taught me two things: to defend our stance while managing to trace a path at a job where no one expects to see you, while in leather and silk, we were historical leaders—and developing a complex know-how and probably the most technical one of the Hermès universe. Back then, our distribution network was quite apprehensive about selling mechanical watchmaking. We had to develop true sales know-how, which was only at its beginnings twenty years ago. This is also what slowed the progression of the watchmaking craft at Hermès. But today, salespeople are enjoying it. For example, you must sell many neckties before reaching the figure of a "Heure de la Lune" watch.
All trades combined, the figures of Q1 2023 show domination of Asia (2 billion euros), a market almost 3.5 times bigger in turnover than Europe (660 billion euros), the second biggest market. Does Hermès watchmaking follow this trend?
Yes, these are more or less of the same proportions. Asia is significant in watchmaking, specifically China and Korea. In 2022 and the beginning of 2023, we have also recorded a very strong dynamism in the American market. The visits of Hermès boutiques (about 300 worldwide) in a post-Covid period recorded very high growth. And on the industrial side, our decision to integrate our watch case and dial makers ten years ago has been very beneficial.
What are the great industrial developments that are yet to come?
We have an ambitious project by 2025: to extend our Noirmont manufacture, which produces dials and cases. The architectural project is completed and done by a local architect. We are finitizing the latest authorizations. Our work will start beginning in 2024. We will double the surfaces or more.
In terms of product strategy, Hermès Watchmaking has increased in volume and value over the past five years while consolidating its base with accessible models. Which product line is still missing from the collection portfolio?
The H08 collection holds strong stakes. As a men's mechanical model inaugurated last year, we aspire to make it an important pillar of Hermès watchmaking. The beginnings are good in every age category. The watch, however, remains an access product to Hermès, which starts at prices much lower than handbags.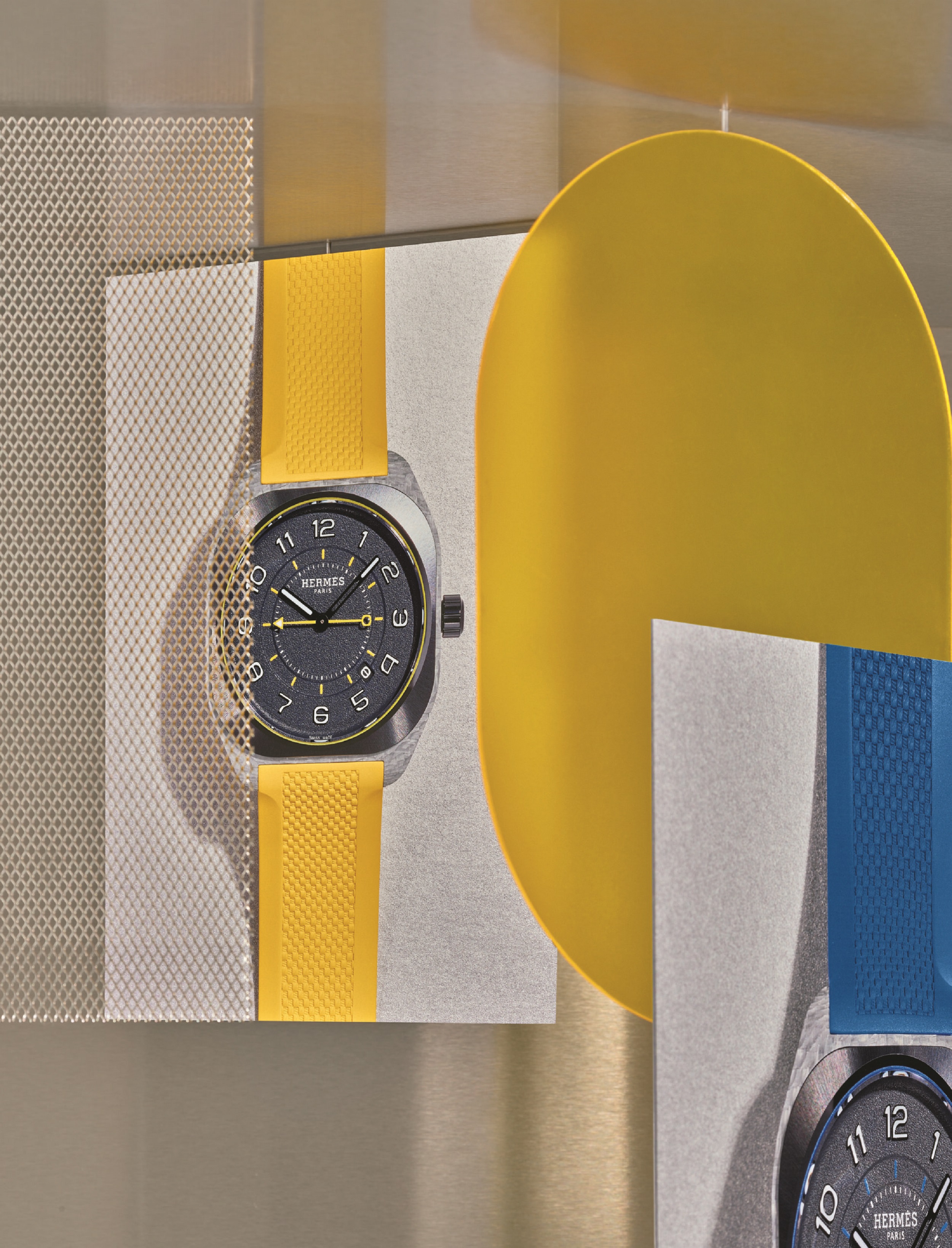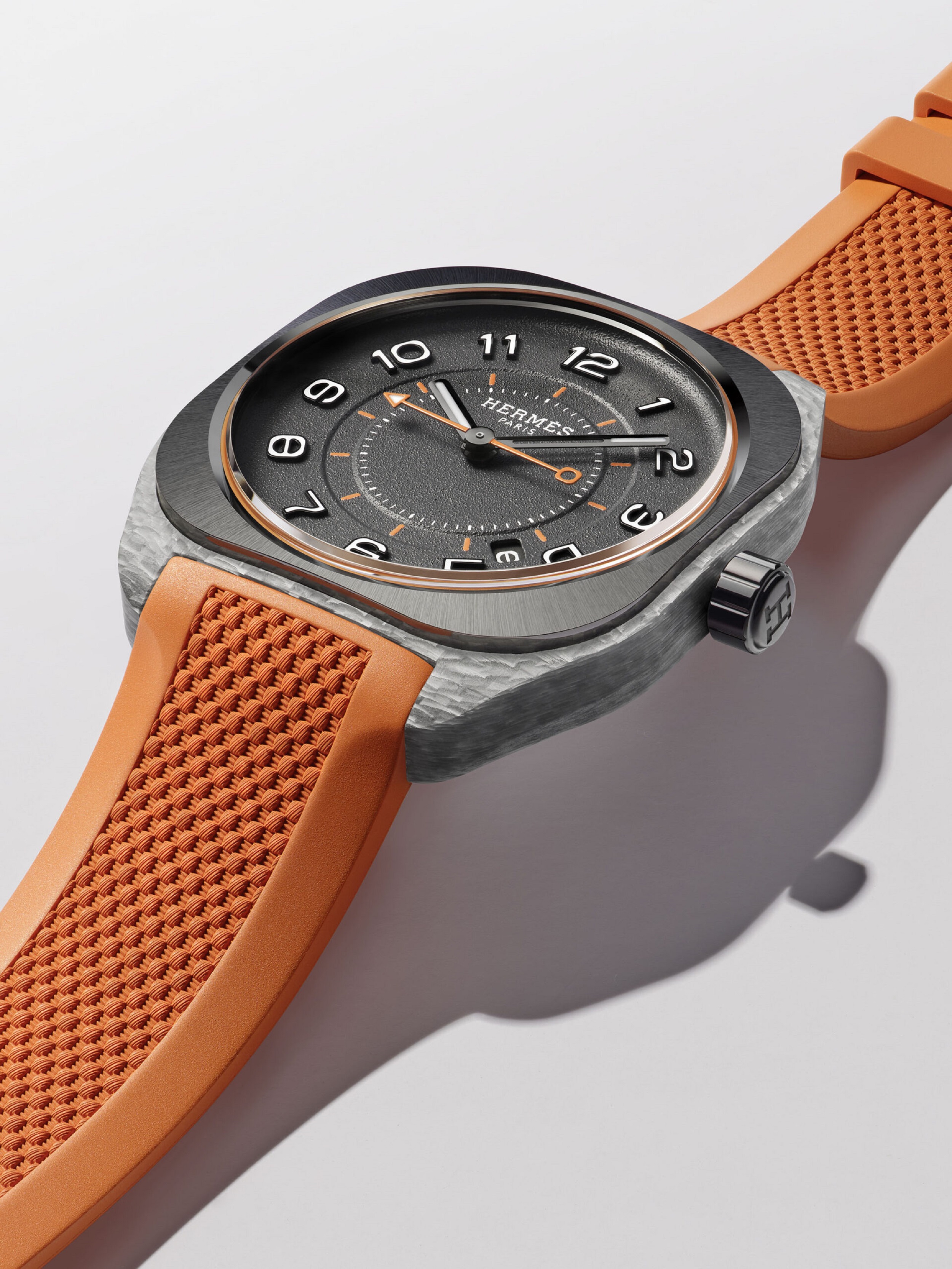 The Hermès H08 model, presented at Watches & Wonders 2023 (Scheltens & Abbenes - Joel Von Allmen)
The H08 watch offers a new shape. Is it always a risk?
Renewing shapes and being fresh is exactly what the Hermès House brings to watchmaking. In 1978 already, at its launch, the Arceau watch was perceived as surprising, asymmetrical, with atypical numerals. Since then, the originality of the numerals drawn to be tailored to each model has become characteristic of the Hermès watchmaking personality. It is a break we owe to Henri d'Origny, a man who did not master the watchmaking technique, but that was actually freeing. In fact, generally, the great successes of watchmaking have always allied creativity, shape originality, and technical know-how. To be inspired on a daily basis by other worlds and other know-hows offers true freedom in style and creation, which a Swiss watchmaker exclusively anchored in its territory and tradition can hardly know. On the contrary, I have also learned that one-tenth of a millimeter can make a difference in watchmaking, just like in other crafts. Hermès is sensitive to the object's perfection. The human eye is an incredible judge.
As general manager of the Hermès house, what is your analysis of the growth supported by the luxury industry for several years, often uncorrelated from the economy?
The year 2022 was indeed an incredible year, a trend which is confirmed at the beginning of this year, 2023. At times, this can seem staggering. The consecutive crisis the world has been going through for twenty years is a reality that we have now integrated. The strength of the Hermès house is its capacity to attract very different clients, thanks to the richness of its brand universe and consequentially to its great price range: a silk scarf, lipstick, or perfume remains affordable. We have always wanted this accessibility without compromising on quality. We are very attentive not to depend on tourists. We cultivate local anchoring, where the middle class doesn't always have the means to buy a handbag but remains very loyal to the house through other products. It is not a remedy to any crisis but a strength.
In 2023, Hermès announced an 8% to 10% increase in its prices, while it has always positioned itself around 3% to 4%. What justifies this, considering Hermès communicates about not having a marketing pricing policy?
Indeed, Hermès will never have a marketing pricing policy. This philosophy is deeply anchored. We are artisans. My grandfather used to say: "Hermès products are not expensive, they are costly." We increase our prices solely according to costs, and they are significant this year.
Considering Hermès has always evolved along its history by adapting to consumers' needs and innovations, what are the professions that are still nonintegrated that you are showing interest in?
We are not done building our new beauty profession. We are elaborating a new line dedicated to skincare that complements makeup and perfume.
Register
Newsletter
Be notified of the latest publications and analyses