Art in pandemic times: a digital Renaissance
Art fairs are struggling: COVID-19 has taken its toll on Art Basel in Switzerland, just as it did in Hong Kong in March. For Art Basel Miami, scheduled for the autumn, there are no certainties. But digital technology could still save the day.
Since the start of the pandemic, everyone across all economic sectors has been talking about how to turn the real world into a digital one. The arts are no exception: demand for online solutions is on the rise. Basel's particularly sophisticated digital format allowed a broad public to plunge into the artistic world. For key players in the sector it was almost business as usual, except their meetings with gallery owners, prominent collectors and renowned artists was taking place online. Art Basel Hong Kong served to test the waters. The result? A digital showcase of around 3,000 artworks worth $220 million, 250,000 virtual visitors and, according to some sources, around 80 million dollars in sales. Art Basel in Basel attracted 282 galleries from 35 countries.
In addition to business meetings and larger gatherings, going digital also allowed potential buyers to inspect each artwork in detail. Some examples: gallery owner Stefan Von Bartha had a good chat with Jakob Fenger from SUPERFLEX; live performances were streamed online, like Time by Argentinian David Lamelas, that was revisited 50 years later as an ambitious experiment on the topical themes of subjectivity and the concept of time; monumental works could be visited on Zoom, like the Unlimited Viewing Rooms selected by curator Giovanni Carmine. Brian Boucher, a well-known journalist in the art sector, shared tips on how to buy online and quoted the great Peruvian collector Carlos Marsano: "Collecting is connecting."
Going digital, a support for galleries
The new Basel Online knowns no financial or aesthetic boundaries. Art Basel Global Director Marc Spiegler called it a genuine digital Renaissance. "We know that a digital platform will never replace physical exhibitions, but we still hope to provide as much support as we can to our galleries and their artists while the art world continues to navigate turbulent waters," he says.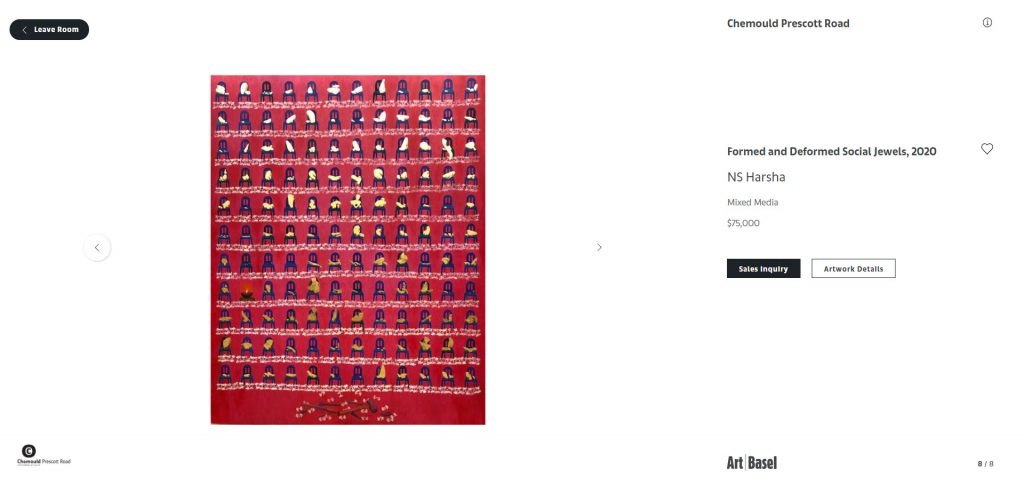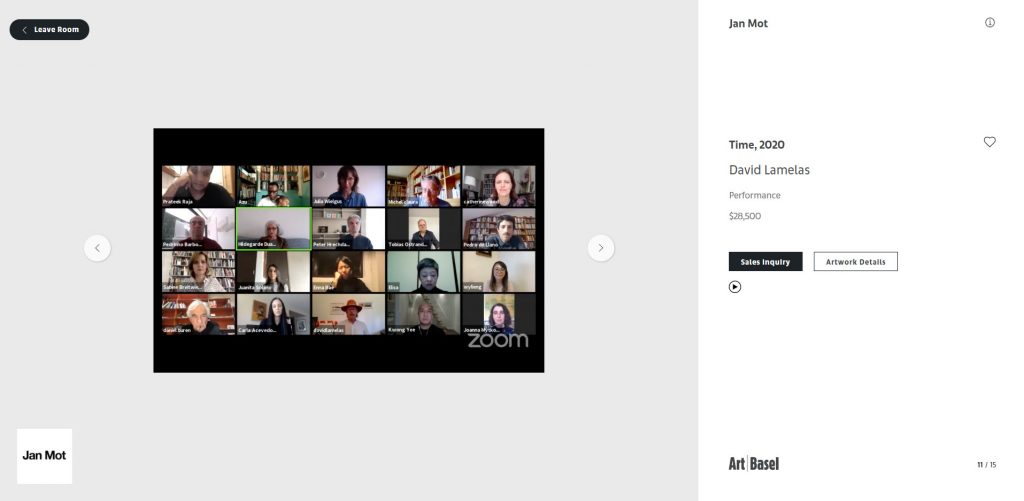 Illustrated above, the Art Basel Online viewing rooms in June 2020, between gallery presentations and conversations via zoom (Art Basel).
About 4,000 works could be admired in detail, each with their history and, amazingly enough, their price tag, alongside them. Their total value was $740 million, with each piece ranging anywhere from $500 to $10 million. What we also know, because that's how things work these days, is that those sales notably included Balloon by Jeff Koons, sold by David Zwirner's gallery for 8 million dollars; Gladstone Gallery sold a Keith Haring for 4.75 million dollars, and a Mark Bradford painting sold by Hauser & Wirth for 5 million. Among the topics discussed in conversations moderated by journalist Melanie Gerlis from The Financial Times, the impact of COVID-19 on the art sector featured prominently and shed some light on the trends afoot in a market that, between art and antiques, was worth approximately $64 billion in 2019, down slightly from $67.4 billion in 2018.
According to Art Market 2020 of Art Basel and UBS report, written by renowned cultural economist Dr. Clare McAndrew, in 2019 sales volume increased by 2% with the number of transactions reaching 40.5 million dollars, the highest in the last ten years. However, on average, while sales went up, the value of the works has been going down.
Auctions account for 42 per cent of total sales ($24.2 billion), with fairs reaching $16.6 billion. The segment of works that sold for more than $10 million shrunk, while online sales were estimated at about $5.9 billion, with new customers and the HNWI Millennials buying online.
New strategies
While the first part of the year was difficult for all the main players, including major auction houses, today everyone seems ready to roll out new strategies, from innovative formats to private sales, to make the most of what the digital world has to offer. The first to take the digital plunge in the post­emergency phase was Sotheby's on June 29th, a feat orchestrated remotely from London by Olivier Barker and totalling sales of $363 million. The most expensive lot of the evening was Francis Bacon's triptych inspired by Orestes of Aeschylus, that garnered $84.5 million; the 18 lots of tycoon Ginny Williams alone brought in $65.5 million; also worth noting were Roy Lichtenstein's White Brushstroke I that sold for $27 million, and a sculpture by Donald Judd for $9.8 million. These are encouraging signs for a post-COVID scenario, but certainly still far from the heights of the past when a single sale at Sotheby's in May 2019 exceeded $300 million.
The market is evolving rapidly, but at different speeds in different places. Worth noting, for example, are the figures for Wannenes Art Auction 2020. Guido Wannenes, CEO of the auction house, says, "We recorded a 66% increase in total sales in the first quarter in a countercyclical market. In recent months we have been holding auctions for antique and 19th century paintings, watches, jewellery and design. At the moment, there is no shortage of opportunities. Granted, we were used to working online and the pandemic only accelerated a process that was already underway." Art aside, Wannenes's auctions also focus on two growing segments: cars and wine. "These are becoming important segments," he continues. "In cars, collectors are now looking for uniqueness, like the Alfa Romeo 8C. Wines appeal particularly to Far Eastern customers, who appreciate French wines and show a growing interest in the Italian ones too. An investment in wine is always interesting and enjoyable, because even if you're dissatisfied, you can always drink it," he chuckles. "Seriously, though, one should buy out of passion, leaving investment considerations for later. According to Coco Chanel, luxury is a necessity that begins where necessity ends. Buying something you care about brings happiness, a feeling that is not quantifiable but that is fundamental in times of great uncertainty."
How the art market will react in 2020? Two questions put to Barbara Tagliaferri, Deloitte
It is difficult today to understand how the art market will react in 2020, with virtual fairs, such as Art Basel, that may be rich in information but lack the magic of physical contact with the artwork and with visitors. This world is above all about human relations, not only connections.
This question was put to Barbara Tagliaferri, Deloitte's Art & Finance coordinator for Italy. She gave the following answers in an exclusive interview.
What have you noticed about the art market during the pandemic?
The art market opened up to the public very generously, bringing everything online, with an overabundance of offers. We noticed that the online market mostly reached mid-range investors looking for accessible art. Admittedly, the public has grown in recent months, art has become more democratic, but this has not compensated for the losses generated by the lockdown. Art fairs have been cancelled in large numbers, and we should remember that this sector thrives on discussion, encounters, exchanges, emotional interaction with the artwork, and this what keeps the market animated.
How do you think the market will react in 2020?
As this is a new crisis and it is completely different from any previous ones, it is difficult to make predictions. If you look at the first few months, online auctions have increased, but total turnover has decreased. Technology is going to play an increasingly important role, as we have seen with ArtTechs, these new operations in the digital world that combine art and technology. The first generation was involved in e-commerce, online sales, but today they focus more on traceability, authenticity, the origin of the work, for greater transparency which has become more important. As for auctions, the Pi-eX report points out that online sales in June accounted for 46% of planned sales but only 6% of turnover, a figure that does not include private sales, where the most precious works were probably traded. I think that the negative global economic scenario will lead the art market towards greater balance and sustainability, and I also think about the educational role of art in society. I'm thinking of what happened in the United States during the 1929 crisis, Roosevelt's New Deal and investments in public art. The value of art will be rethought, shifting from trends to quality, and this includes private individuals engaging in public art through foundations.
A true object of art, blue jeans now have their own international festival. Meetings and exhibitions celebrate the famous blue fabric in Genoa. Indeed, denim was not born in the country of cowboys, but in Italy. Our analysis.
After Château la Coste and Commanderie de Peyrassol, the Art Center of Bonisson recently launched in Provence, surrounded by its eponymous vineyard. Since the Rothschilds in Mouton over 80 years ago, the connections between art and wine have been increasing. A reasoned marriage?
Register
Weekly Newsletter
Be notified of the latest publications and analyses
Register