Swatch launches a new collection with Blancpain
Swatch has teamed up with Blancpain to launch the Bioceramic Scuba Fifty Fathoms collection. Drawing inspiration from the five oceans, the series incorporates technical innovations.
Following the successful collaboration between Swatch and Omega, resulting in the Moonswatch models, Swatch now partners with Blancpain to celebrate the 70th anniversary of the Fifty Fathoms dive watch. Inspired by the five oceans, the Bioceramic Scuba Fifty Fathoms model is a non-limited series that captures the essence of the very first dive watch, conceived in 1953 by Jean-Jacques Fiechter, the then diving enthusiast and CEO at Blancpain, to meet the demands of underwater exploration.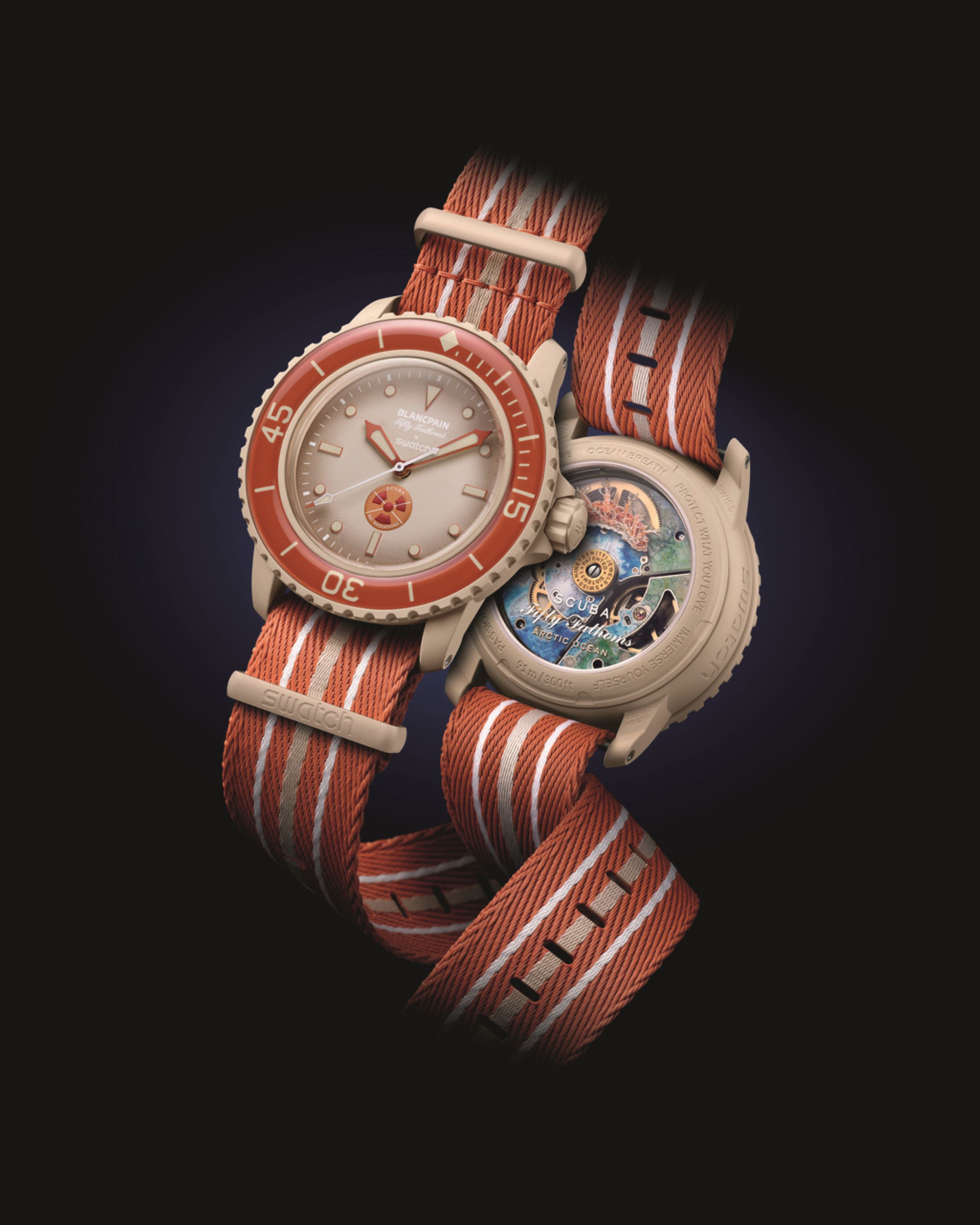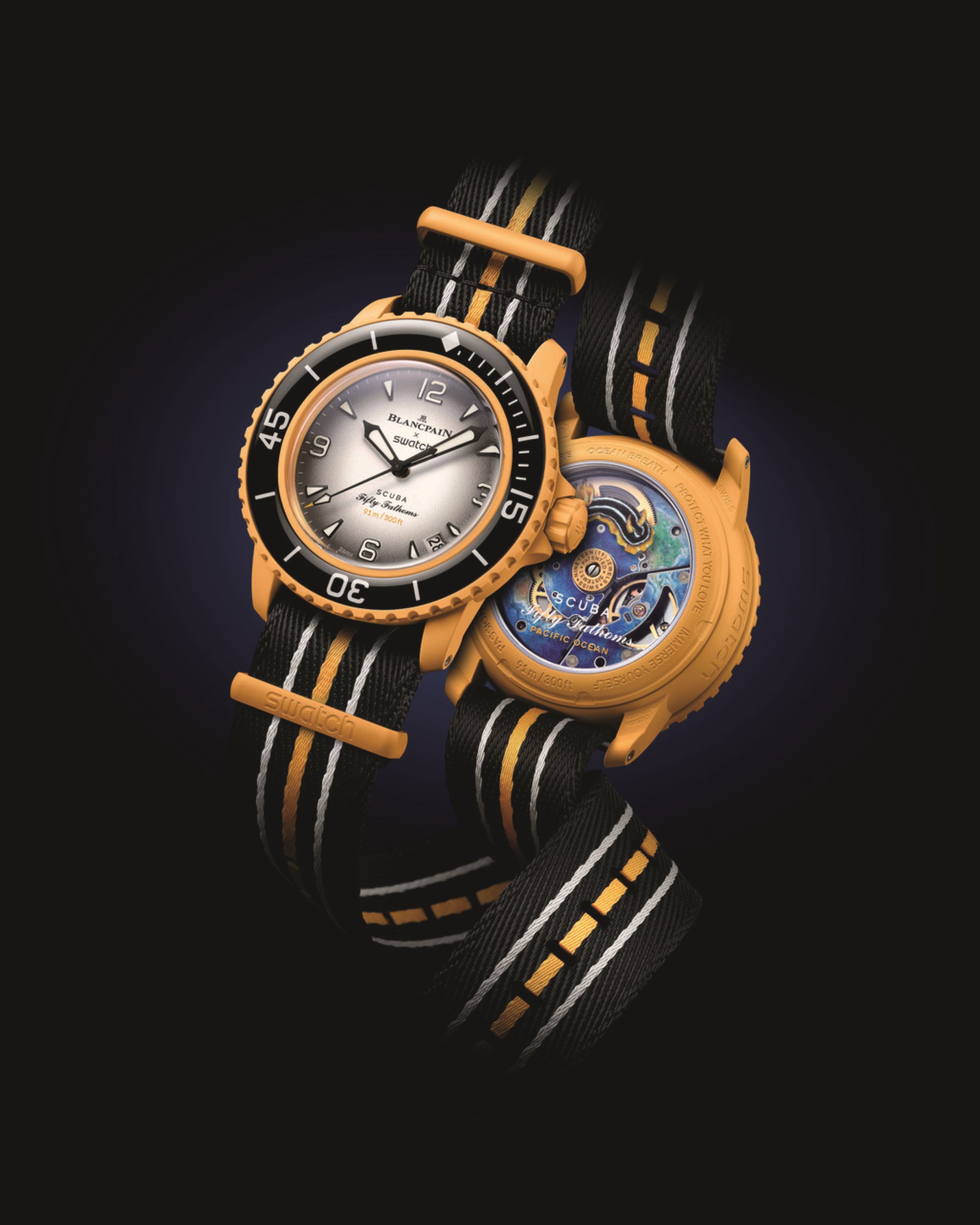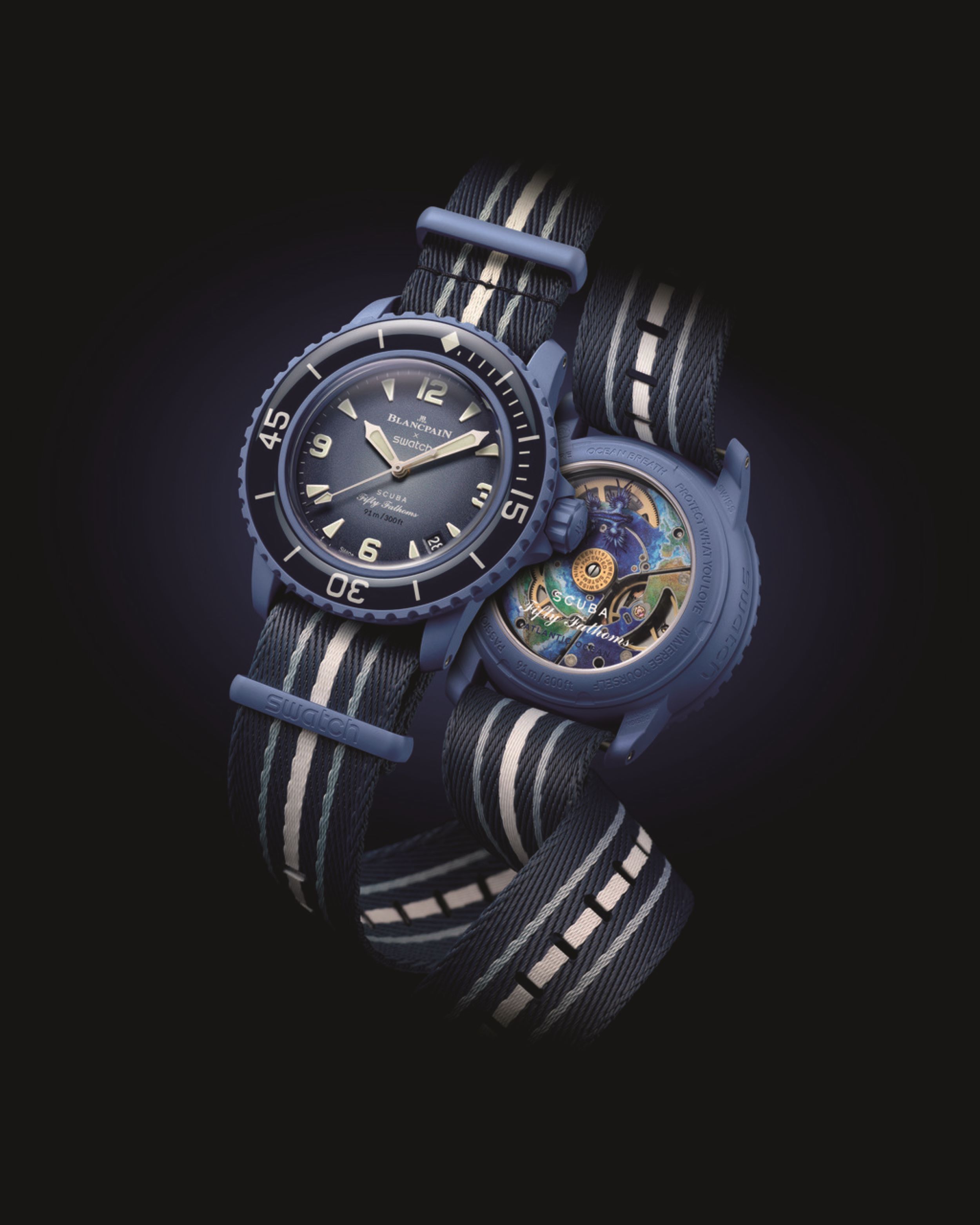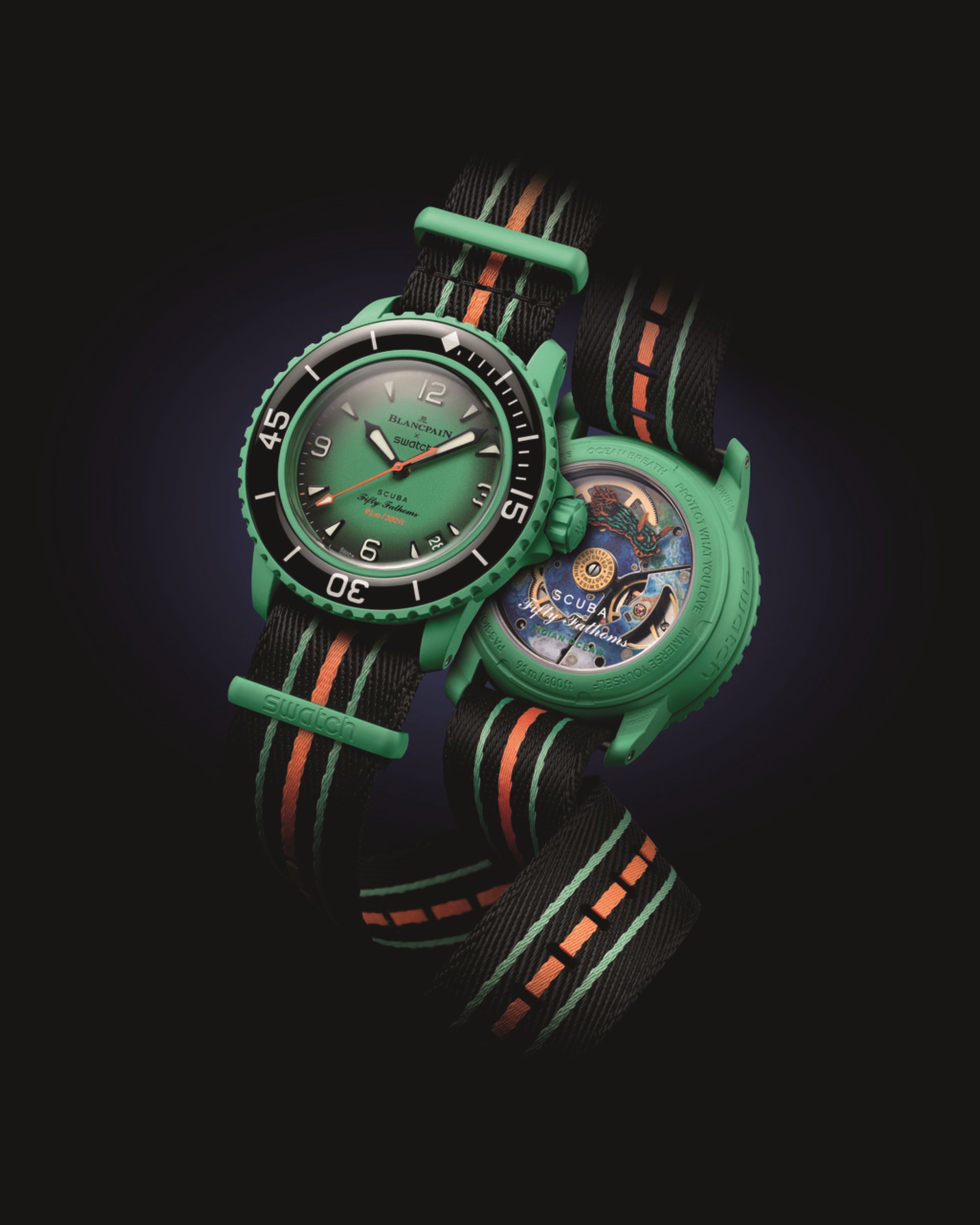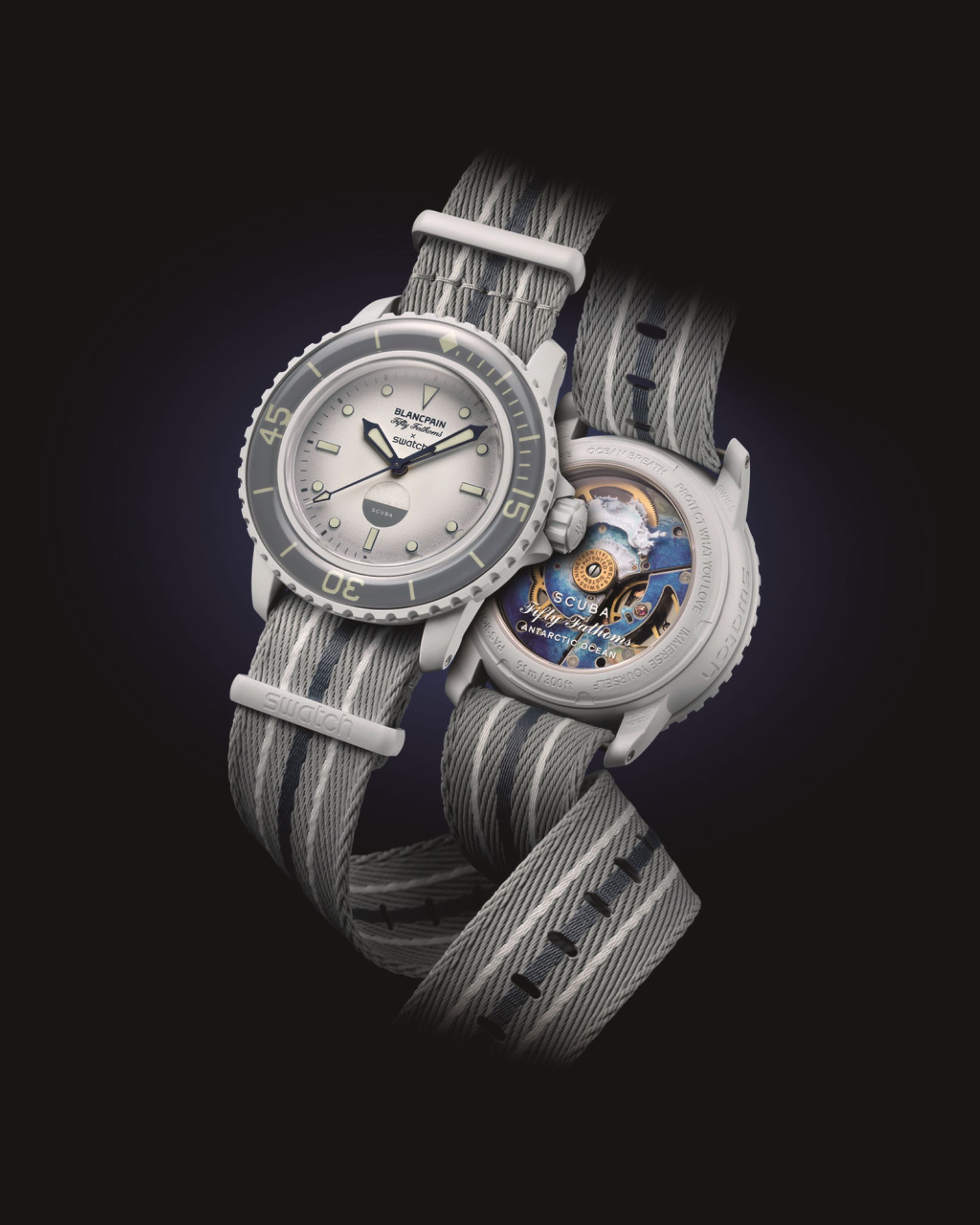 From left to right, the ARCTIC OCEAN, PACIFIC OCEAN, ATLANTIC OCEAN, INDIAN OCEAN, and ANTARCTIC OCEAN models (Swatch)
In this vein, Swatch is introducing five new models – ARCTIC OCEAN, PACIFIC OCEAN, ATLANTIC OCEAN, INDIAN OCEAN, and ANTARCTIC OCEAN. Each watch is named after an ocean and features on its reverse a Nudibranch (scientific name: Nudibranchia), a colorful marine creature specific to each ocean. For instance, the ARCTIC OCEAN showcases the Dendronotus Frondosus nudibranch, while the ATLANTIC OCEAN features the "blue dragon" Glaucus Atlanticus.
Technically, these watches are equipped with Swatch's fully automated SISTEM51 mechanical movement, boasting a 90-hour power reserve. The mechanism consists of 51 parts, including a central screw, and is anti-magnetic due to the Nivachron™ hairspring. Design-wise, they embrace the iconic features of the Fifty Fathoms. Paying tribute to its legacy and nodding to Blancpain, the Bioceramic Scuba Fifty Fathoms is water-resistant up to 91 meters. This detail is significant since the name "Fifty Fathoms" refers to an old English maritime measure, the fathom, where 50 fathoms are equivalent to that very 91 meters.
Swatch and Blancpain opted to revisit the model using bioceramic, an innovative material patented by Swatch made of ceramic and bio-sourced materials derived from castor oil. Moreover, the NATO straps are crafted from recycled fishing nets retrieved from seas or oceans, symbolizing both brands' commitment to ocean preservation.
The ARCTIC OCEAN model pays tribute to the unique features of the 1960s Fifty Fathoms with a "NO RADIATIONS" logo, indicating the absence of radium. For enthusiasts, the symbol consists of three red segments on a yellow background crossed out with a white cross. Watches with this distinctive logo have become especially sought-after collector's items. The ANTARCTIC OCEAN, meanwhile, incorporates a moisture sensor introduced by Blancpain in 1954. This moisture sensor, also known as "MIL-SPEC," meets the specifications of the U.S. Navy.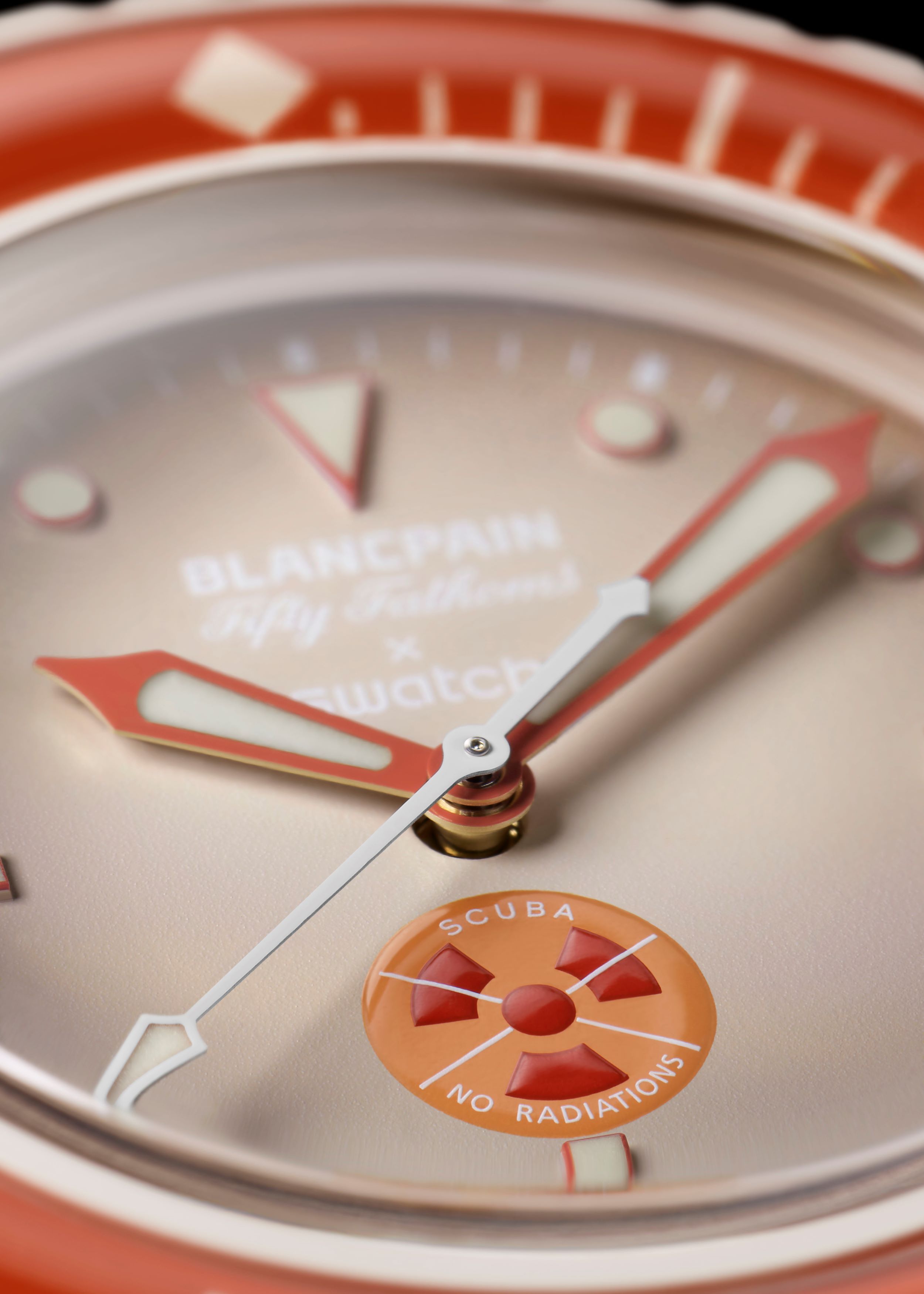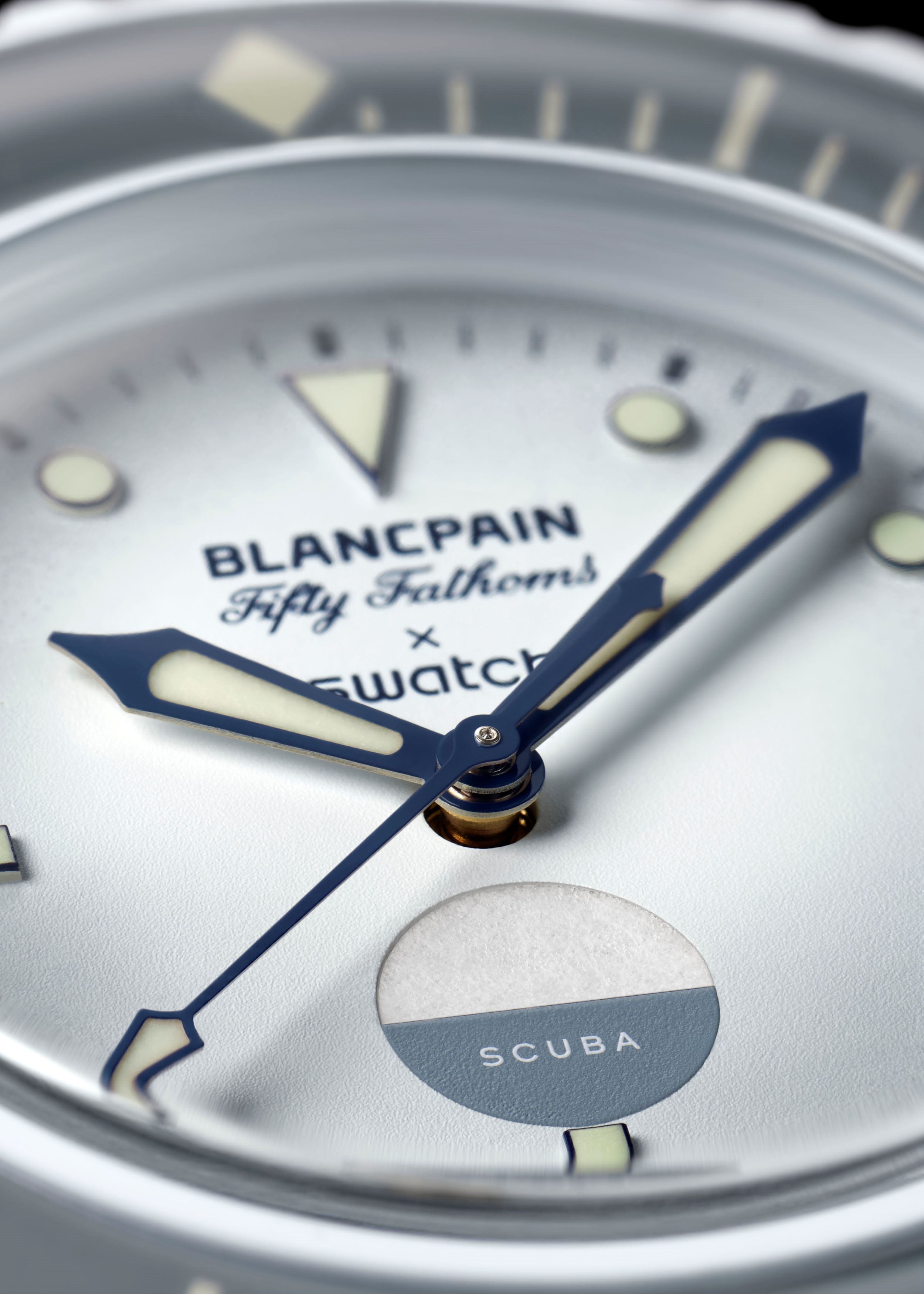 The ARCTIC OCEAN model pays tribute to the particularity of the Fifty Fathoms of the 60s with a "NO RADIATIONS" logo, and the ANTARCTIC OCEAN model features the humidity sensor (Swatch)
The collection will be available from September 9th in Swatch stores, priced at 375 Swiss Francs. Some models will also be on display at Blancpain boutiques.
Register
Newsletter
Be notified of the latest publications and analyses