Black Art Matters: When Afro-descendant art sweeps through Europe
In the post-Black Lives Matter era, African American photography and painting are becoming increasingly popular on the art market. Artists who have revolutionized the way black skin is perceived and who have challenged identities are finally in the spotlight.
The demands of the Black Lives Matter (BLM) movement have resulted in the emergence of certain African-American artists who have been ignored by the general public for too long, as well as pay tribute to those trailblazers, whom prestigious galleries are now eyeing. A way to educate – at last - the general public, through photography and visual arts, to a fight that has too long only concerned a part of the population.
This is a platform in which notorious collectors such as Jay-Z or Alicia Keys have emerged, a phenomenon that has directly influenced the quotation of these artists for three years. Record figures were reached in May 2021 at Christie's, during the sale of two Basquiat, one of which, estimated at 50 million dollars, was sold for 93 million dollars. A craze also exacerbated by the 2018 retrospective organized by the Louis Vuitton Foundation in Paris, which already exhibited this rare painting entitled In this case, or the About Love campaign of Tiffany & Co, for which Beyoncé and Jay-Z posed in front of the Basquiat Equals Pi, owned by the jewelry giant. Alicia Keys and her husband Swizz Beats' purchase of three canvases by Harlem-born modern painter Tchabalala Self had also boosted bids for the same artist at Christie's subsequent 2019 London sale, with record sales prices reaching over six times their original valuation.
Register
Newsletter
Be notified of the latest publications and analyses
Ana Maria Celis, head of evening sales at Christie's, posits an analysis of the recent success of these sales: " [Buyers] want to collect art that truly reflects our times. The art that is being made today by these artists is a mirror of our times. They want to bring forward issues that may have been uncomfortable. (...) The works today are very figurative and claiming."
On this point, some artists had already begun this militant approach half a century ago, driven, among other things, by post-independence claims, in the face of persistent neo-colonialism. An unconsciously political and anti-racist path, which paved the way for the post-BLM movement, and which is being honored today, as if to offer a broader contextual reading grid to this recent emergence.
Brathwaite: the American Pope of "Black is Beautiful
Let's remember that the New York photographer and activist Kwame Brathwaite paved the way for an assertive photography, highlighting the daily life of the black community in Harlem. The New York Historical Society has unveiled a tribute to him until January 2023 through a large exhibition entitled "Black is beautiful".
James Barnor: sheding light on black
Already in the 1950s, the Ghanaian photographer James Barnor, one of the African precursors of this movement, had begun to highlight black skin in his first photographs in the 1950s, first in black and white, in Accra, and then in London, where he continued his career from 1959 onwards. His gorgeous covers of the South African anti-Apartheid magazine DRUM, in color this time, were the high point of his approach, by highlighting modern and confident African women, imposing by doing so a new standard of beauty in the midst of Apartheid, where the simple capture on glossy paper of a reality that surrounds him daily becomes a political statement, and where the photos of crowds, with their distinct faces, turn into multiple portraits. Now 93 years old, the photographer was honored in 2022 with a major retrospective entitled "James Barnor, Accra/London" at MASI in Lugano, as well as two one-off exhibitions in Seoul and Arles. The retrospective is now eagerly awaited at the DIA in Detroit for May 2023.
A post-modern reappropriation of the exotic aesthetic
From the highlighted Black skin James Barnor argues for, there is a leap to understanding the approach of a young conceptual photographer, also Ghanaian: the young Awuku Darko Samuel. Born in 1997, he plays with the depth of darkness, looking for the dull, the indiscernible, as if to remind us that Black identity does not exist as such, and remains an overused concept. Here, black becomes a tint of the infinite abyss, as deep as it is elusive.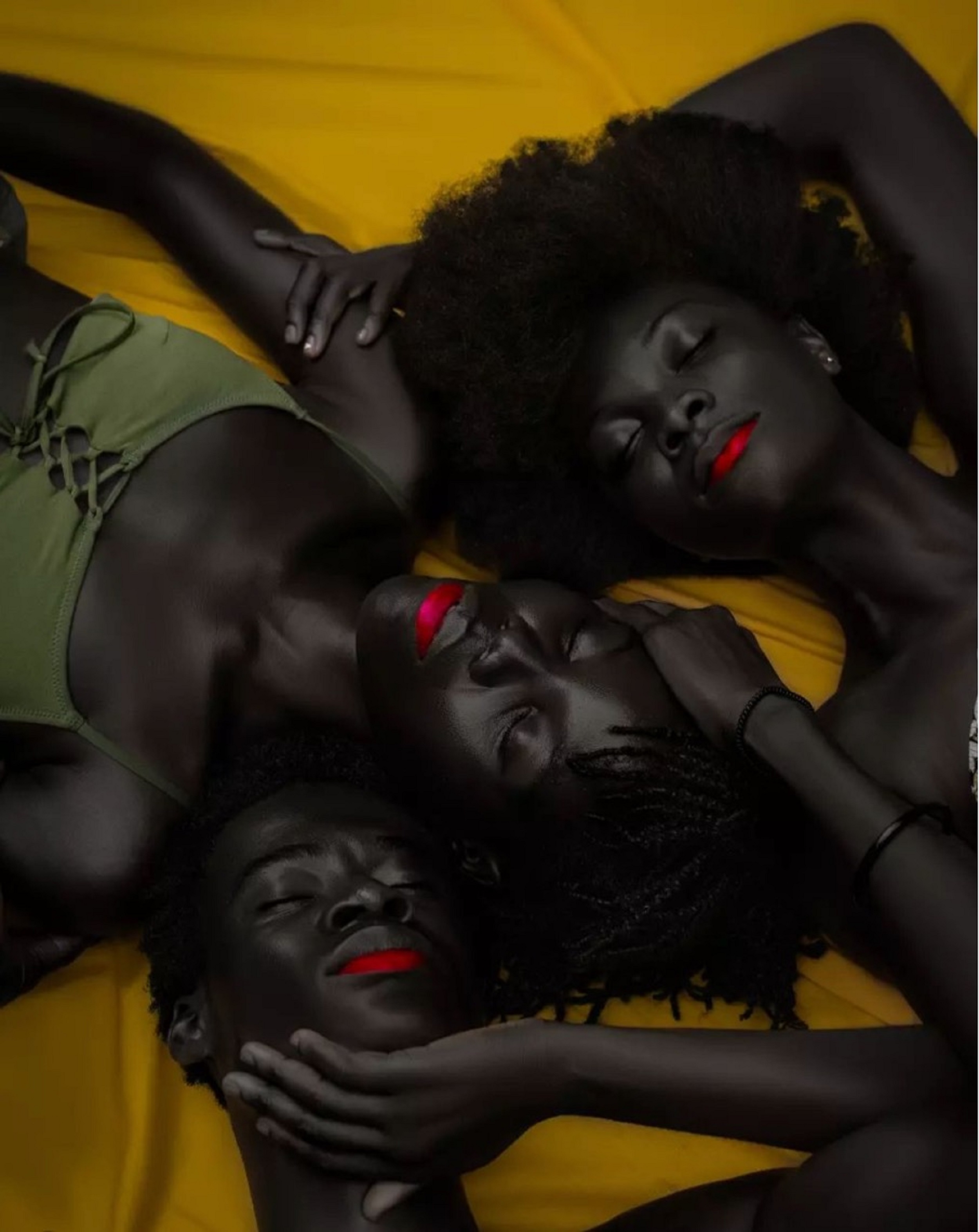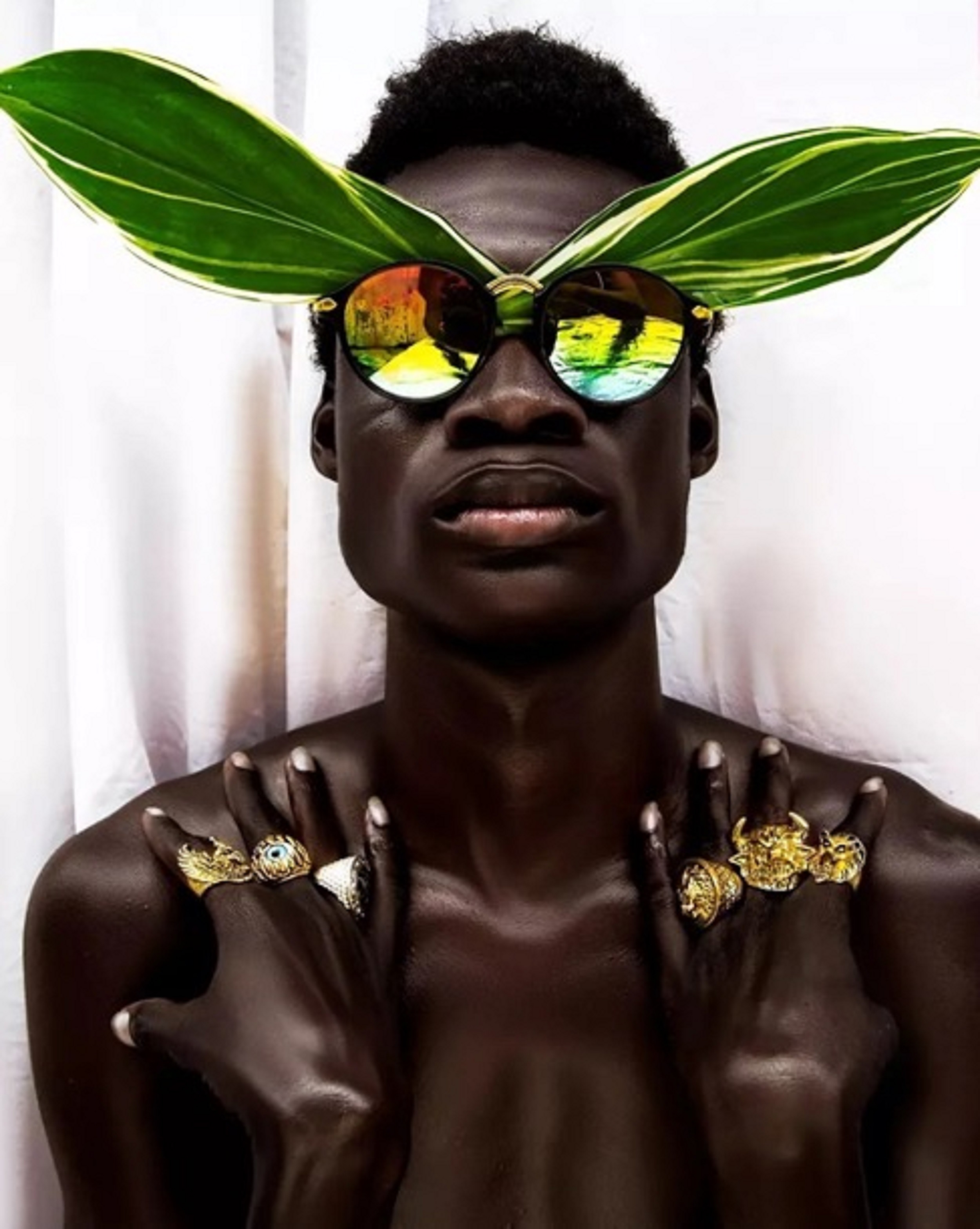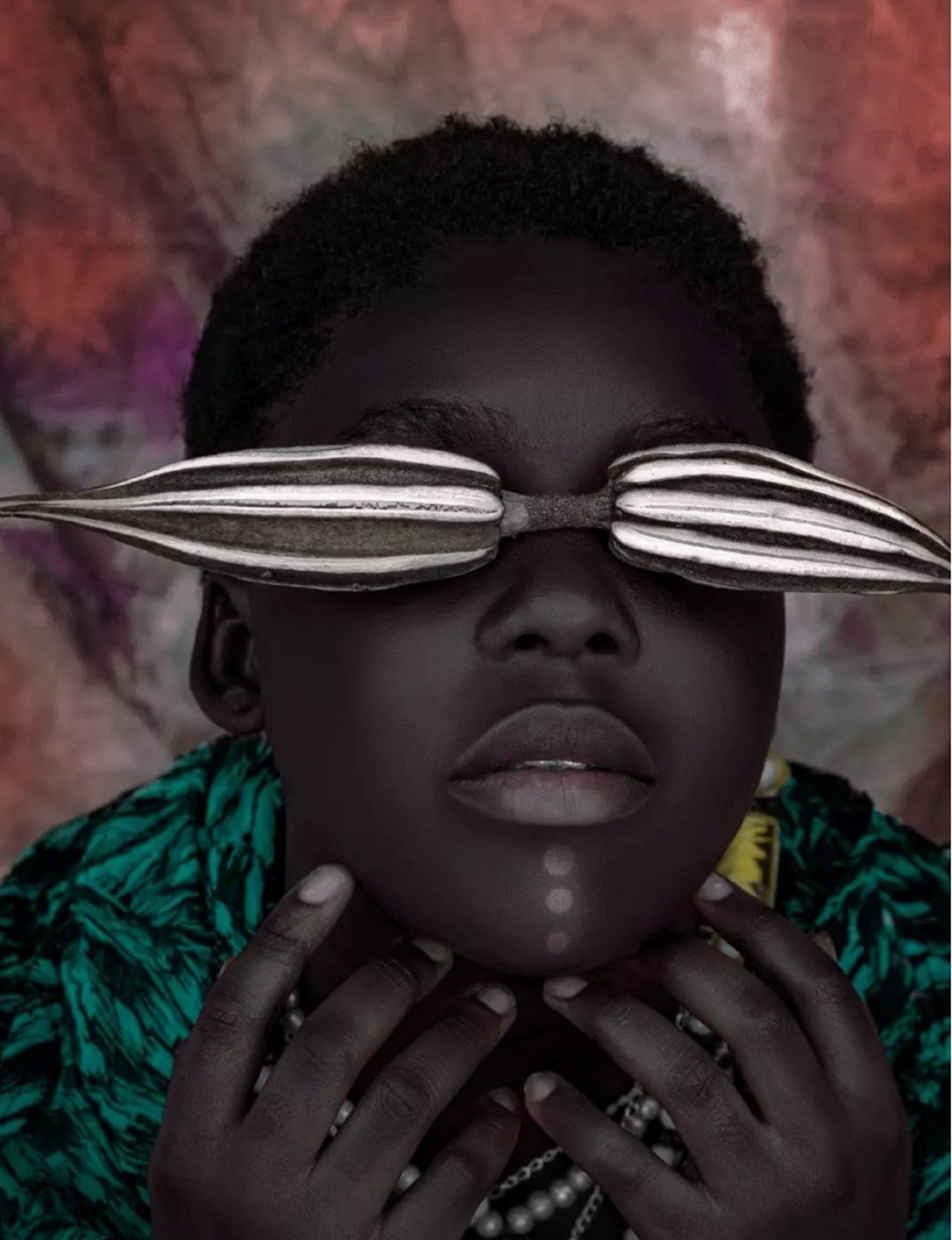 Awuku Darko Samuel, a young Ghanaian photographer, often stages models wearing clearly stereotyped accessories to remind us that each of the individuals presented is the sum of a complex history. From left to right, the artworks: "We Unify", "All I see", and "Until eye is dry" (Awuku Darko Samuel)
Awuku Darko Samuel often stages models wearing clearly stereotyped accessories, as if to divert the codes of an exoticizing aesthetic too long in the hands of colonialist propagandists, then white artists who often offered, consciously or not, an aesthetic angle reducing black identity to its animality. In doing so, he reminds us with a modernity that is unique to him, and by a surprising association of the plant and the urban, that each of the individuals presented is the sum of a complex history.
Awuku thus enhances this impression of stratified individuals, where each portrait is an X-ray of our made-up history. A history that we are led to rediscover without veil, in an explosion of bright colors that emphasize the affirmation of identity.
The Nigerian photographer Ibukun Akindele, whose success is growing on social networks under the pseudonym The Visual Chef, reinterprets his own culture and its relationship to its beauty and pride through his avant-garde vision. His photographs offer him a mirror, such as the one spectacularly highlighting the profile of an albino woman.
He explains: "For too long, African history has been told by the West. I try, by using the varieties of skin colors, by highlighting the diversity of melanin concentrations, to remind people of the diversity of African history, which is plural. The Black Lives Matter movement, by the way, has clearly helped shed light back on to these unresolved debates."
The Californian Gregory Prescott, on the other hand, rehabilitates black male nudes in art photography, through single-subject shots, but also group shots, in black and white, which disabuse the public of the shortcut: collective black nudity - slavery. A way to reeducate all and to unravel mechanisms of thought and confront the collective interpretative reflexes, to metamorphose them. He confides: "A strong image of a group of black men has an immediate impact, and maybe we will get used to it. The photo shoot itself is often a moment of communion, where there is also a desire on the part of the models to demonstrate solidarity within our own community, and to accustom it to being proud of the black male nude in its diversity."
Prescott, through shots such as his poignant George and Cotton, also returns with beautiful poetry to the pain of a history that runs through his veins: "This is a tribute to our history and how far we have come. I firmly believe that art and photography can help make the ignorant curious about the story behind the image."
2023: The year of women?
Tate Britain is currently exhibiting British painter Lynette Yiadom-Boakye, who also delves into the mystery of identity through her poignant portraits of imaginary characters. The commitment of the Californian artist Kara Walker will be the subject of an exhibition at the Glenstone Center this spring 2023, after having been honored during Art Basel 2021 with the exhibition "A black hole is everything a star longs to be", her first European exhibition, where collages mixing historical photographic archives, written accounts and painting (in mixed technique) screamed the urgency of a questioning of the repressive look that has been posed in the course of history on the black identity, and on the black woman more precisely. An over-sexualized gaze that persists today, a conditioning of several decades that, according to Walker, rubs off on the way African-American women perceive themselves, whom she regrets seeing sometimes take on this role. A mechanism that she reinterprets head-on. The visual artist Tschabalala Self, whose discourse also revolves around a reassertion of the black body, and especially, of the black female form, will be the subject of a major exhibition at the Kunstmuseum in St. Gallen from February 25 to June 18, 2023.
A wound across centuries
Thus, from the slave ships to the enslavement of bodies and minds that Walker denounces, from James Barnor's artistic resistance to South African apartheid in the middle of the last century, to the icy pages of the September 2020 Vogue special issue featuring a painting by Kerry James Marshall on the cover, a bridge is being launched towards a more comprehensive understanding of a fractured history that we must know how to face. A plural history with a common struggle: the struggle to transcend political and societal inequalities that have remained in the shadows for too long. Because finally, by freezing by their objectives, and by fixing by the color, it is a paralyzed history which moves at last.
Africa: A new economy of transformation (Part.2)
While Africa is destined to become an important market for the world of luxury, it remains a coveted source of raw materials essential to high jewelry, perfumery, or even high-end food. Yet, Africa has been losing between 5 and 15% of its GDP growth per capita for some time due to climate change. Analysis.
By Eva Morletto
Register
Newsletter
Be notified of the latest publications and analyses