The incredible rise of Indian haute couture brands
Indian luxury fashion brands are now able to export and attract investors. High-quality Indian handicrafts, recently given pride of place by Western luxury brands, are now finding a way to expand thanks to local fashion houses.
In 2022, singer-rapper Megan Thee Stallion chose a bespoke slate-blue gown by Indian designer Gaurav Gupta for her Oscar debut. Weaved with crystals in curvaceous waves, Stallion's gown demonstrated the excellence of Indian craftsmanship. Cardi B wore another of Gupta's signature geometrical gowns at the 2023 Grammys awards. Other international celebrities, including Jenna Ortega and Kylie Minogue, have also donned his sculpted ensembles.
India's homegrown luxury brands go global
Gaurav Gupta is relishing his popularity and making the most of it. "We are launching our first-ever premium ready-to-wear collection exclusively for the Western market with Neiman Marcus and other specialized stores like Bergdorf Goodman across the United States. We will soon launch in Europe too," reveals the New Delhi-based couturier. This year, Gupta also made his debut at Paris Haute Couture Week, nearly two decades after starting his eponymous brand in India. He is only the third Indian designer invited to showcase at Paris Haute Couture Week as a guest member.
The first Indian designer invited was Rahul Mishra, a science major turned couturier from a small town in northern India who has seen phenomenal growth in the last decade. From introducing his minimalist collection in India with Kerala handloom to dressing Hollywood A-listers like Zendaya, Gigi Hadid, and Ashley Park in inspired hand-embroidered 3D ensembles, Mishra has made his mark. His luxury ready-to-wear is already retailed at Harvey Nichols, Saks Fifth Avenue, David Jones in Australia, and Joyce in China. He plans to launch flagship boutiques in London, Paris, and New York with his new business partner, Reliance Brands Ltd (RBL), which partners with luxury brands like Balenciaga, Valentino, and Tiffany & Co. in India. Rahul has formalized a 40:60 joint venture with RBL to launch a new label that will have luxury ready-to-wear, accessories, footwear, home, beauty, and jewelry collections.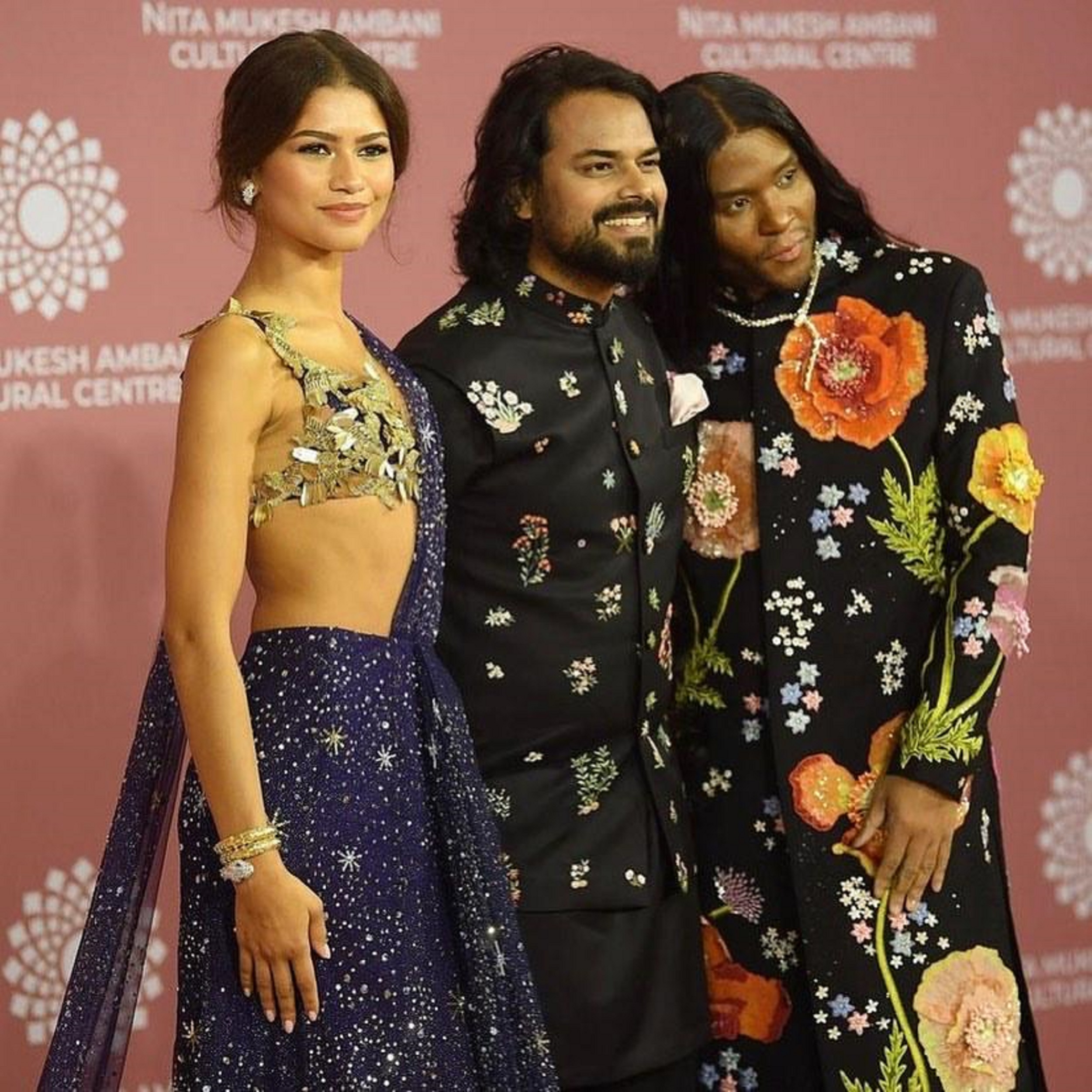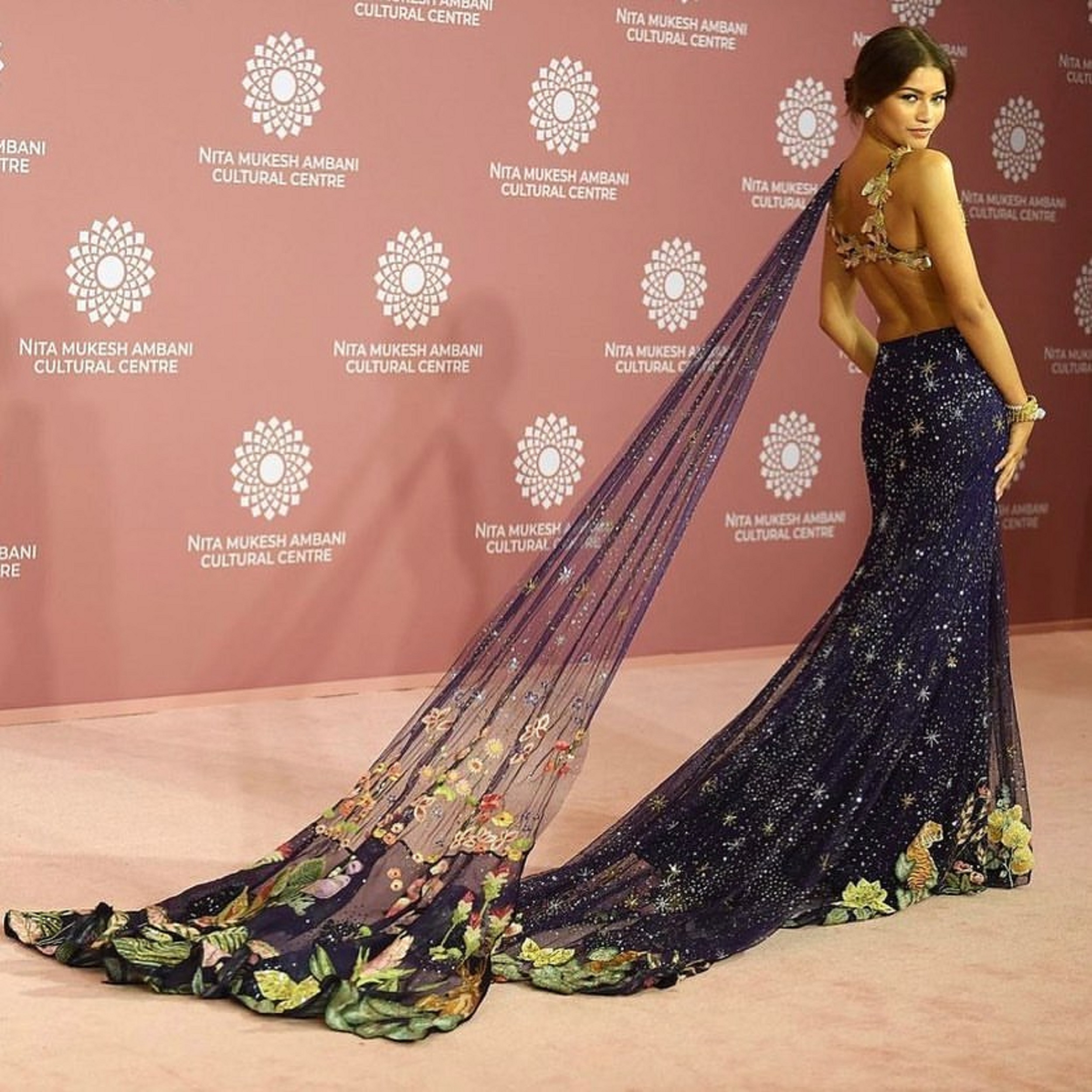 From left to right, Rahul Mishra with Zendaya and Law Roach at the Nita Mukesh Ambani Cultural Center (NMACC) 2023 event in India. Zendaya wore a bespoke sari designed by Rahul Mishra (DR)
Large corporations are investing now in luxury because it is predicted to be the only segment that is going to grow fast as people are becoming more prosperous
Rahul Mishra, Delhi-based Indian fashion designer
For Mishra, corporatization was the imminent step to establish a significant global business presence, "If you want to see global brands out of India or for that matter from anywhere, that is the only way. Look at Gucci that reached a wider global audience with Kering or even Dior with LVMH", he explains in an interview with Luxury Tribune. For almost a quarter of a century, global luxury brands such as Dior, Fendi, Versace, and Christian Louboutin have been outsourcing India's fine craftsmanship through specialized ateliers. Today, India also wants to showcase its centuries-old craftsmanship globally with its luxury brands.
Corporatization and global expansion of Indian luxury brands
Register
Newsletter
Be notified of the latest publications and analyses
In the last two years, a large bouquet of India's popular homegrown luxury fashion houses, including Mishra's, have been transformed by corporatization. Indian luxury conglomerates RBL, and Aditya Birla Fashion & Retail Ltd (ABFRL) have purchased significant shares in privately-owned Indian fashion labels. This move strengthens their luxury portfolios and expands the reach of these brands, both domestically and internationally, in ethnic wear and global silhouettes.
RBL has bought a 51% stake in couturier Abu Jaani & Sandeep Khosla (AJSK) and its subsidiaries, an haute couture brand specializing in Indian ethnic wear. AJSK is the designer duo who put together the multi-million-dollar wedding day ensemble for Reliance heiress - Isha Ambani. Bespoke haute couture is a key category in grandiose Indian weddings, an industry expected to reach 159 billion dollars this year. RBL has also sealed strategic partnerships with another half a dozen private labels to expand their premium prêt-à-porter collections and diversify into other commercial sectors like accessories and footwear. Manish Malhotra, one of the most celebrated ethnic wear couturiers in India, recently sold a 40% stake of his company to RBL "to open more flagship stores, collaborate with international fashion creators, and explore new markets across the globe," he says.
India's luxury conglomerates fueling the growth
The next big global brand will be from Asia for sure and most likely from India
Gaurav Gupta, Indian couturier and artist known for exploring themes of surrealism and fanaticism
India's luxury conglomerates have a big field to play in, in both India and overseas. Globally, Bain & Co. expects the number of luxury consumers to rise beyond 500 million by 2030. While for India, the report predicts the luxury market will increase by 3.5 times in 2030 compared to 2022. Another report by Knight Frank predicts India's dollar millionaire population to rise and cross 1.4 million by 2026.
In the race to acquire India's luxury houses, ABFRL, bringing Galeries Lafayette to India, has scooped up a 51% stake in the coveted Indian wedding couture label - Sabyasachi for USD 43.5 million to grow and distribute his various business categories. The Mumbai-based designer, who has dressed nearly every Bollywood bride in recent history, opened a 588 square feet Indian haute couture store in New York's west village late last year. ABFRL has also bought controlling stakes in other popular luxury labels such as Tarun Tahiliani and Shantanu & Nikhil and launched multiple luxury stores. The fashion giant, also having bridge-to-luxury brands in India, saw a 26% rise in revenue in FY'22, reaching 1.6 billion dollars.
The future of Indian luxury brands
"Corporatisation is going to snowball the growth of the industry by leaps and bounds," says Anita Dongre, one of India's leading luxury designers who started her global journey years before the rest of her counterparts, opened her first store in New York five years ago. She received funding of 20 million dollars in 2013 from General Atlantic in exchange for a 23% stake in her company (HOAD). This milestone achievement occurred before India's luxury giants even began their acquisition binge in the luxury sector. General Atlantic is also an investor of Tory Burch. "Mine is a family business, and we have been doing our global expansion on our own, and it is not easy," Dongre admitted. She launched another flagship boutique in Dubai this year, a country where Indians constitute nearly 28% of the expatriate population. HOAD turnover exceeded 91.5 Million USD last year with a 20% contribution from its luxury arm.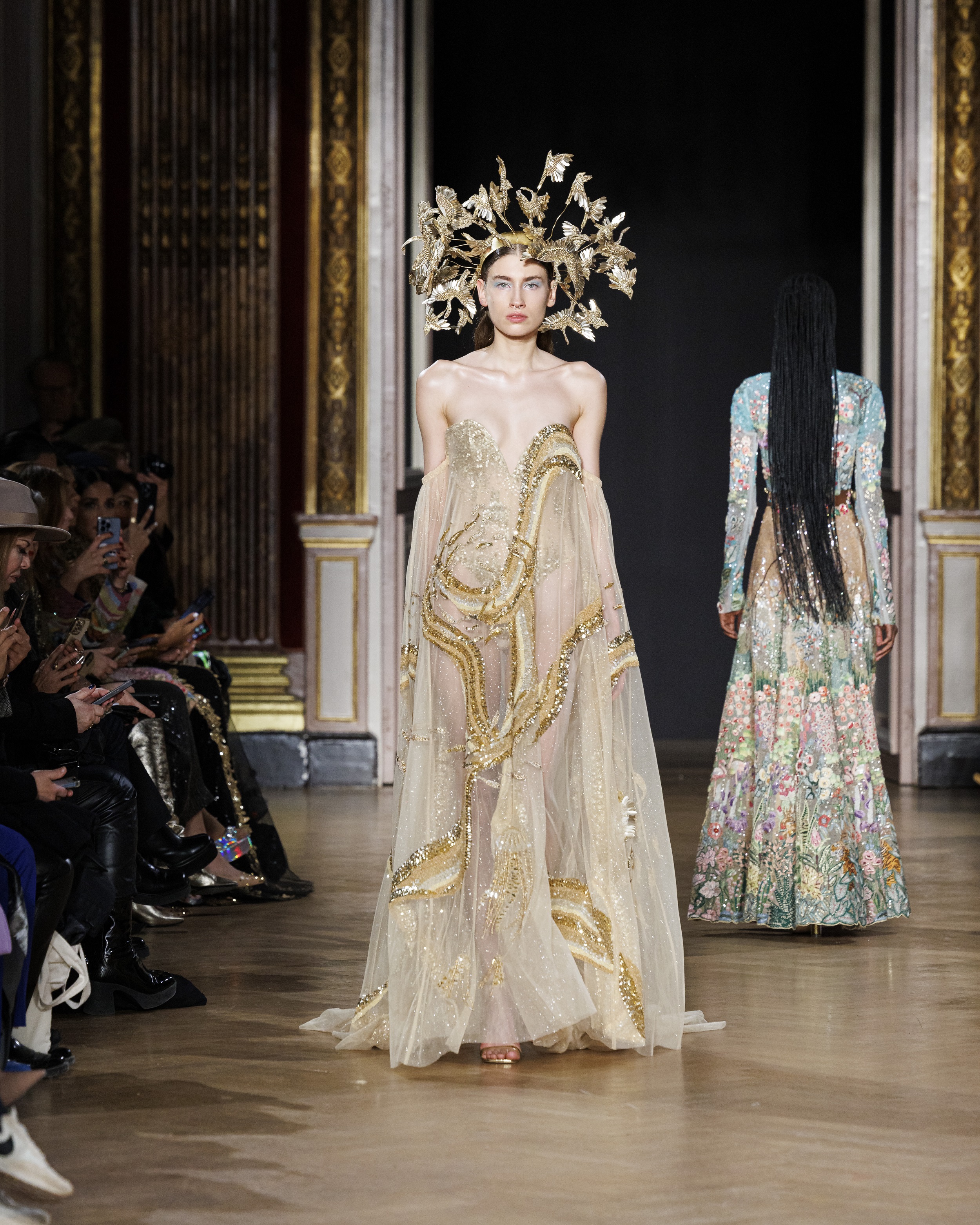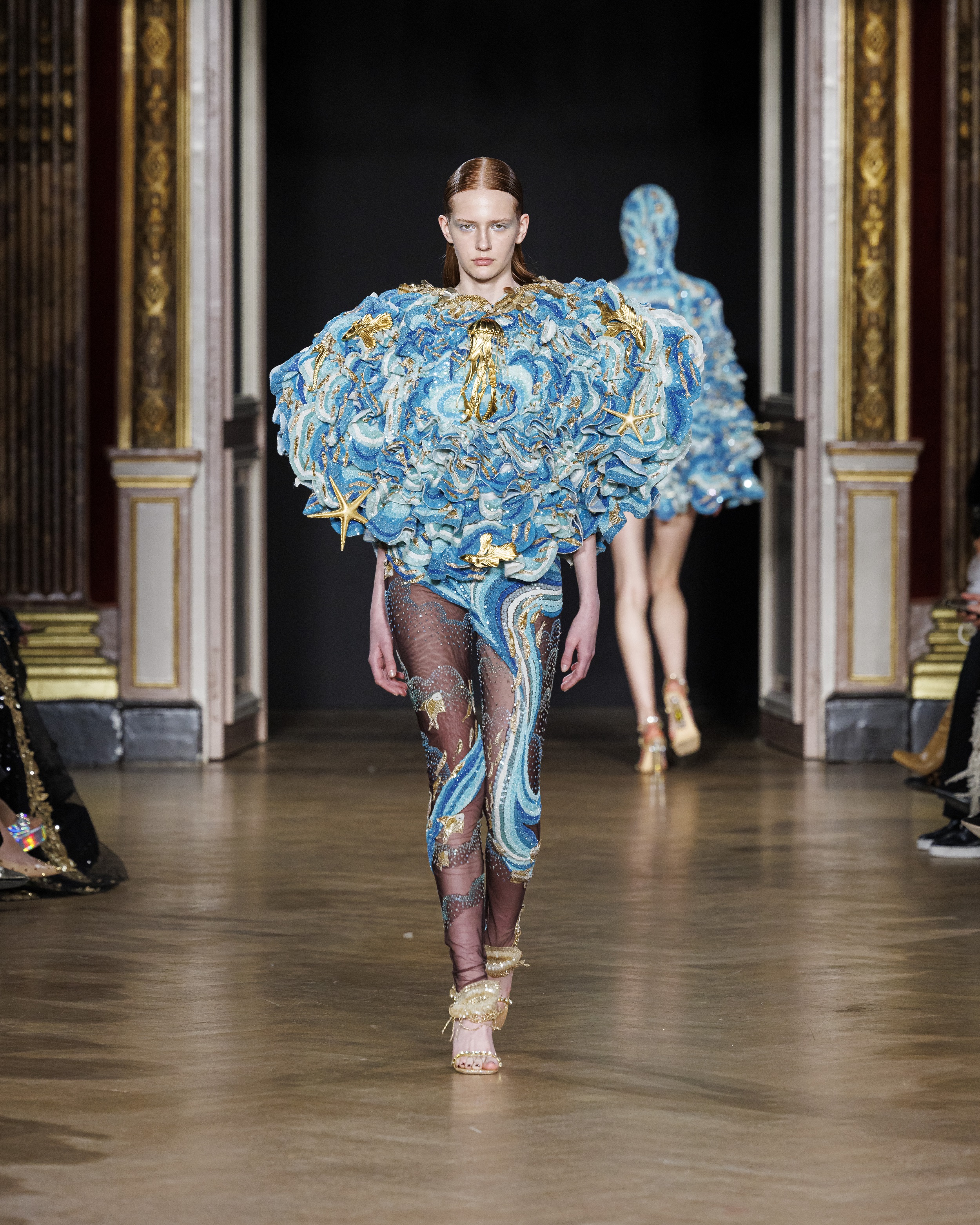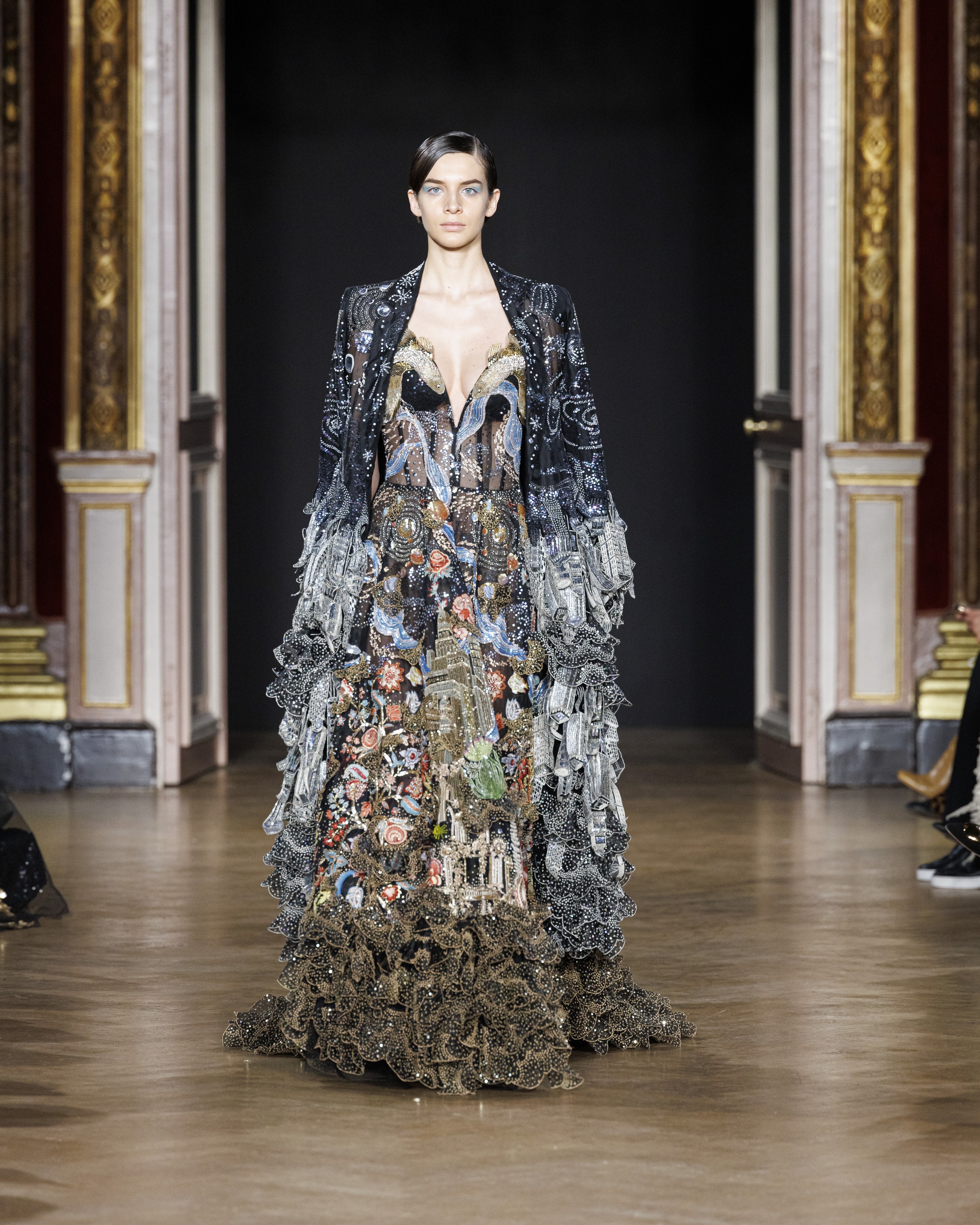 Designer Rahul Mishra's spring-summer 2023 Couture collection at Paris Fashion Week (DR)
"Large corporations are investing now in luxury because it is predicted to be the only segment that will grow fast as people become more prosperous," notes Mishra. Echoing his sentiments, Gupta adds, "America and Europe have ruled the fashion industry because of their socio-economic growth. But in the next 5-10 years, the next big global brand will be from Asia for sure and most likely from India".
India, the next big luxury market to grow 3.5 times by 2030
The historical land of the Maharajas and the present day home of 36% of the world's billionaires – India is swiftly attracting major luxury brands to its progressive shores. Despite the current retail inflation at 6.77%, India's luxury goods market generated a revenue of nearly US$7.5bn in 2022.
Register
Newsletter
Be notified of the latest publications and analyses